As the Focus Shifts to Gen Z, Agencies are on the Rise
Millennials might be the most studied generation and the most sought after by marketers, but Gen Z has moved in.
Gen Z, born after Millennials, was the first generation to have never spent a single day without the Internet and are said to have an average attention span of 8 seconds. However, they will also number 2.6 billion by 2020 and have an annual buying power of $44 billion.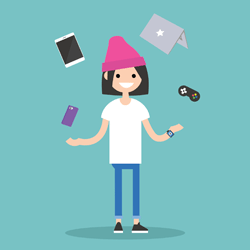 Those stats are clearly attractive to marketers and have given rise to a cottage industry of agencies, media companies and consultancies specializing in Gen Z, Digiday reports.
Firms like The Pineapple Agency, Refuel Agency, Awesomeness TV and Zebra Intelligence are working with major brands, including Kohl's, CoverGirl and Sprint.
AwesomenessTV recently worked with Align Technology to reach Gen Z and their parents with information about the benefits of teeth straightening with its Invisalign clear aligners vs. metal braces. A series of short films profiles five teens who are mentored by an influencer that shares their passion in areas like filmmaking, sports and music. The message is that Invisalign treatment fits right in with teen lifestyles. The series lives on AwesomenessTV on its YouTube channel, which has 5 million subscribers, and is promoted by the influencers.
An average 74% of Gen Z's spare time is spent online, marking a remarkable opportunity for marketers to reach this group through social media.
Forbes just released 10 tips to reach Gen Z on social. This group loves Snapchat and mastering the art of marketing on this platform is a must. Instagram stories quickly followed Snapchat's lead in an effort to reach Gen Z with short bursts of disappearing content: Marketers soon followed. Gen Z lives on their smartphones so optimize small screens for optimal viewing and a flawless customer experience that includes celebrating cultural and ethnic diversity, Forbes says.
In addition, know and understand the followers of Gen Z influencers, always share video content on YouTube and study the brands Gen Z loves.
Related articles:
5 Lessons Millennials Taught Marketers