Anthropologie CMO on Becoming Digitally-Proficient, Courting Younger Audiences and Creative Diversification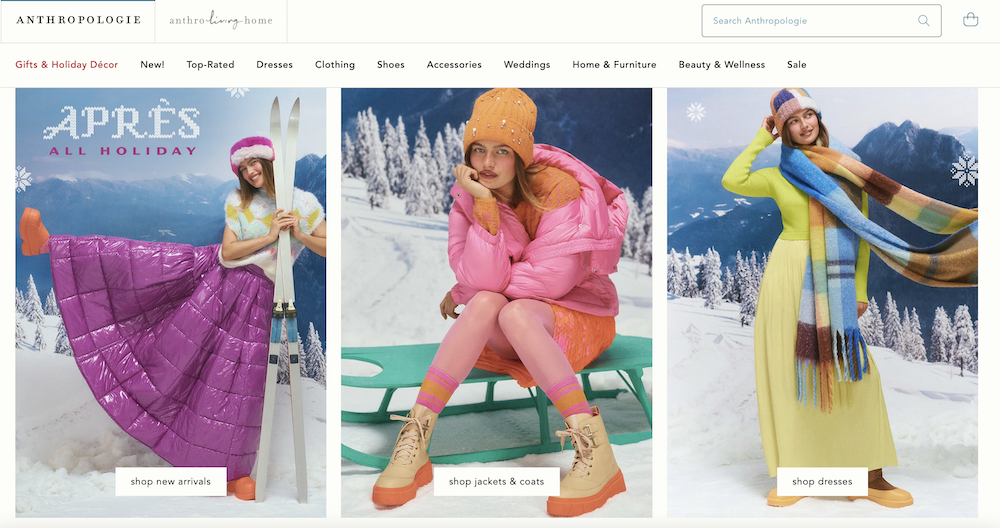 At an Advertising Week panel in New York City last month, Anthropologie Global CMO Elizabeth Preis spoke about the clothing brand's journey toward becoming digitally-proficient, how it's marketing to younger audiences and the company's push toward creative diversification.
Pandemic-Born Lessons
As was the case for most companies that relied on a brick and mortar presence to drive purchases, the pandemic forced the 30-year-old clothing brand to swiftly pivot to digital channels. "What that required is stepping back and saying, where do we have the skills? Where do we have the knowledge set, and do we have all of the right tools for us to actually move forward in this business?" Preis said. "We realized that digital is not a channel. It's not a platform. It's not a technology. It's not a marketing lever. It's a business driver. Full stop."
That lesson transformed the company into one that now leads with digital at the outset. "Everyone in the organization—even those who run stores—think and act digitally-first, because that is how customers oftentimes first respond to your brand," she said.
Fortunately, Anthropologie had a trove of digital know-how to begin with, having functioned many years as a direct-to-consumer business. "We had a whole database of customers. We had a huge working ecommerce platform, and many other companies did not have the same capabilities. We actually had a lot of the foundation to work with," Preis said.
Appealing to Younger Audiences
Anthropologie's core customer is affluent women in their thirties and forties—and to that demographic, they are beloved. But reaching younger generations was a challenge. The task was to continue to market to its core consumer while also introducing younger consumers to the brand. With help from an analysis done by Meta's retail division, the brand discovered that differentiation was lacking in its creative. It needed to generate different kinds of content and storytelling to break through to younger consumers.
The next step was determining what the new products were, how this new audience wanted to see and experience them, and what talent they wanted to show them the products. "It's not always the celebrity. It can sometimes be the gal next door," Preis said. "How do we think about all those pieces of the puzzle to create a suite of content, a suite of assets that we can then push up, and see how they respond against the audiences we want?"
Differentiating the creative and storytelling made a difference fairly quickly. "In a matter of months, we started seeing about two and a half times more exposure for that target audience," Preis said. "It doesn't happen in one minute, but it certainly happens over time, and you have to stick with it."
To achieve that success, the brand focused on the trifecta of product, content and customer. First, it set out to attract younger consumers by bringing in new brands, such as Mother and Frame. Then once it had the right brands, it needed the content—which underwent a shift from what it was previously. "If you look at what our content used to look like three years ago versus what our content looks like now, it's dramatically different… More edgy, definitely more youthful," Preis said.
Finally, after securing the assets and the product, the task was amplifying that story on a broader scale through marketing. "Even with all this change, our customer retention rates have actually improved, not gone down," Preis said. "So our active customer continues to be as engaged, if not more with our brand. And in addition, we see outsized growth of our new customer."
The Cost Conundrum
But more ads means more cost. So how do you make the case to finance? "It does cost more to create more ads. There's no question about it," Preis said. "But the opportunity cost of actually serving up ads that don't resonate is also a compelling argument against making sure that you have enough assets and creative diversification out there…. Spending media dollars on things that don't work is a waste of money. And we think about our business as investing in the right places… and that might mean in some cases investing in enough content to actually then reach those right customers that we're trying to attract."
And that's how the brand now runs its business, without sacrificing efficiency. "If all that incremental content can actually reach more audiences that then become more engaged because the content that they're seeing is more relevant to them, and not to the mass, then you actually end up getting efficiency on your creative over time."