So, What's the Big Whoop About Millennials?
So, what is the big whoop about Millennials? Well, we're about to tell you. We've pulled together a handful of the highlights that make Millennials the hottest demographic on the planet. Here's what you need to know: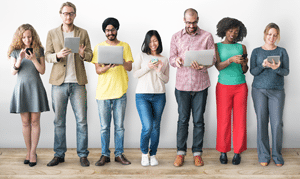 • Millennials are the largest generation in America, accounting for 80 million consumers, 11.6 million households with kids, and are expected to spend $200 billion dollars this year. And by 2020, Millennials' spending power will hit $1.4 trillion a year and that will account for 30% of U.S. retail sales, according to Accenture.
• Millennials have now overtaken Baby Boomers as the largest living generation and with immigration adding more numbers to this group than any other, the Millennial population is projected to peak in 2036 at 81.1 million. By 2050 there will be a projected 79.2 million Millennials, according to the Pew Research Center.
• Today, Millennials want an experience and part of the overall experience is sharing content with their social networks. In fact, Facebook ranks as the most popular social network followed by SnapChat and Instagram. Millennials will choose YouTube over Twitter and Pinterest and will also unfollow posts that they find to be annoying.
• When it comes to mobile, Millennials use their mobiles for everything, including making purchases, payments and to research products whether they're in-store or online. Sixteen percent of Millennials use their mobiles to make a majority of their online purchases and to comparison shop other retailers.
• Millennials expect a consistent experience across channels, whether that's on mobile, a desktop, tablet, at an event or in-store.
• Millennials are the most diverse generation ever and they comprise everything from single mothers to middle-class professionals to growing families. They range in age from 18 to 34 and appear in every social class and have lifestyle interest that range from hip-hop to shopping for the healthiest baby foods.
Major Millennial Subsets
Multicultural Millennials are a powerhouse. They make up almost half of the overall Millennial generation and represent local markets that drive 47% of the total U.S. gross domestic product. They spend more than $65 billion each year and influence upward of $1 trillion in consumer spending by the "multiplier effect." That means marketers targeting multiculturals also get the benefit of this group influencing not only their peers, but older and younger generations as well.
B2B Millennial buyers make up a big chunk of the Millennial demo, 55% in fact. However, they can be a difficult group to market too as Millennials had the lowest ad engagement and memorability scores of any age group for a Nielsen study. Add to that they are a distracted group. However there is good news, these buyers respond to relevant content—including storytelling—influencers, organic search and as with Millennials overall, companies with a social responsibility platform.
Older vs. Younger Millennials
Senior Millennials generally have more money than junior Millennials. Seniors spend less, as saving for the future is important to them. In fact, 15% of seniors report saving $10,000 or more, compared to 8% of juniors. Older Millennials devote 2.1% of wallet share as compared to 3.2% of juniors to products only available a specific stores. Juniors outspend their senior counterparts, making purchases centered on beauty, athletic wear and experiences. They are more likely than their senior counterparts to browse items online using their mobile devices and are less likely to shop in-store as older Millennials would.
To learn more about Millennials visit Chief Marketer Academy's Marketing to Millennials 2017 Virtual Event where you will find case studies from major brands like Dr Pepper, Fabletics and Alex and Ani. Each case study is presented by the brand's respective brand marketer.
Related articles:
5 Lessons Millennials Taught Marketers
Gerber CMO Aileen Stocks on Keeping up with Millennials
Kimberly-Clark's Creative Strategy to Hire "Original Thinking" Millennials