5 Lessons Millennials Taught Marketers
So, what is the big whoop about Millennials? Well, they are the largest generation in America, accounting for 80 million consumers, 11.6 million households with kids, and are expected to spend $200 billion dollars this year. And by 2020, Millennials' spending power will hit $1.4 trillion a year and that will account for 30% of U.S. retail sales, according to Accenture.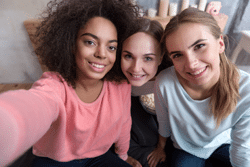 Millennials have now overtaken Baby Boomers as the largest living generation and with immigration adding more numbers to this group than any other, the Millennial population is projected to peak in 2036 at 81.1 million. By 2050 there will be a projected 79.2 million Millennials, according to the Pew Research Center.
It's no wonder that Millennials are getting so much attention from marketers. But there are plenty of challenges. (Check out our first online virtual event: Marketing to Millennials 2017 to hear presentations from Dr Pepper, Alex and Ani, Fabletics, Avnet and more.
Millennials are the most diverse generation ever and they comprise everything from single mothers to middle class professionals to growing families. They range in age from 18 to 34 and appear in every social class and have lifestyle interest that range from hip-hop to shopping for the healthiest baby foods.
With all of this diversity, there is no single answer when marketing to Millennials, however, Millennials have had a major impact on the way marketers target and communicate with them. Let's take a look at five lessons Millennials taught marketers that they are putting to work in their own campaigns.
1. Authenticity
It is well known that Millennials distrust traditional marketing and advertising. Authenticity builds trust with Millennials and they seek brands they can develop true relationships with, have conversations with. So keep your communications, marketing messages and content as authentic as possible. Provide real, actionable tips and be transparent in sharing your company values.
2. Corporate Social Responsibility
This is a big one for Millennials. Brands that stand out among this group tend to clearly communicate their corporate responsibility programs and, even more importantly, follow through. Millennials seek out and are very loyalty to companies that align with their lifestyle interests and values. Some of these include, charitable causes, protecting the environment, sourcing local ingredients, helping them maintain a healthy lifestyle, and treating employees with respect.
3. Experiences
Millennials want to feel they are involved with brands and marketers are offering Millennials the opportunity to co-create with them innovate, and participate in meaningful conversations drawing Millennials into the brand. Create experiences that are highly sharable, which means your brand love will be shared.
4. Influencers
We can't talk about Millennials without talking about influencers. A large majority of this group are influencers themselves—among their peers, co-workers, vast social networks and beyond. This group is inspired by people they know in person or online and influencers they can relate to. In fact, 84% of Millennials say user-generated content has at least some influence on what they buy, and 73% say it's important to read others' opinions before purchasing, according to Bazaarvoice.
5. Listen up
The amazing thing about marketing to Millennials is that are quick to tell you what they love and hate about your brands. Those who are listening have tweaked products, developed new ones, staved off landslides of negative social backlash and many other positives benefits for the brand.
Related articles/events:
Marketing to Millennials 2017 (Virtual Event)