TD Bank Shares How it Plans to Engage WorldPride Attendees in June
TD Bank is one of dozens of corporate sponsors at WorldPride next month, including T-Mobile, Unilever, Airbnb and Tiffany & Co.
The event, to be held June 28-30, will be the first WorldPride event held in the U.S., which coincides with the 50th anniversary of the Stonewall uprising. Millions of people are expected to attend.
TD Bank has a massive activation planned under its "Be You Here" theme, engaging festival goers to talk about where they feel the most "here"—where they feel like they can be themselves.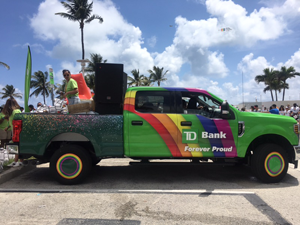 Plans call for multiple events to be staged the week leading up to WorldPride. On Friday, June 21, "Family Movie Night" will include a small activation prior to the movie. The Forever Proud Rainbow—a symbol of TD Bank's commitment to the LGBTQ community—photo activation will be available for the first time at the Youth Pride event. TD will also be sponsoring the New York Public Library's Stonewall 50 Exhibit, commemorating the 1969 Stonewall Riots.
Two TD Bank-branded floats will make their way along the parade route for the grand finale New York City Pride March June 30. Some 400 TD Bank employees, friends and family members will walk with the floats. During the march, it will also participate in Pridefest, the annual LGBTQIA+ street fair that combines exhibitors, entertainers, food and activities to celebrate equality. Along the route, TD will brand LinkNYC kiosks that provide free public WiFi, marquee stores with custom creative, and other experiential elements.
TD will also activate its photo activation of its "Forever Proud Rainbow Circle " and hand out "Be You Here" pins. People will be asked to share where they feel they can be themselves. TD is also providing space to the local youth organization, Destinations Tomorrow, where they will activate and tell their brand story.
Through a digital media partnership with ABC7 in NYC 30-second and a 15-second TV spots will air.
TD's support of WorldPride 2019 aligns with the launch of The Ready Commitment, a multi-year program designed to open doors for a more inclusive tomorrow through community giving in four areas—financial security, a vibrant planet, connected communities and better health.
---
More on Marketing to LGBTQ:
---
Arianna Orpello, svp, brand, channel, community and field marketing strategy at TD Bank, talks about TD's history with the community and how it nurtures that relationship.
CM: How long has TD Bank been active in the LGBTQ community?
AO: It's been part of the fabric of the culture for a very long time. Even from a policy perspective, we started spousal benefits for same sex couples in 1994. By 2006 we launched our employee pride network. In 2008 we were the first bank to feature same-sex couples in ads. In 2013, we launched our Forever Proud Rainbow Circle that we use at all pride activations. It's about TD's commitment to the community and encouraging everyone to be proud of who they are.
CM: How did you gain your understanding of the LGBTQ community and what were the key insights?
AO: Our brand is about being human. Our new campaign that we launched this year is called "Unexpectedly Human." We have a brand diversity council that we get input from and we're on boards of advocacy groups and having dialog about the issues facing the community. We also listen to what people are saying on social media based on what we're putting out there. We're constantly trying to keep a pulse on what's happening.
CM: In April, you participated in Miami Pride, where you have been a sponsor for more than 10years. How did you activate there?
AO: We do 30 Pride events across out footprint market. At Miami Beach Gay Pride we sponsor their Latin stage each year.  We built our parade contingent up from just having walkers, to adding a golf cart and now for two years in a row, having a branded wrapped truck. This year during the parade we celebrated our Pride Icon—the Forever Proud Circle with rainbow circles on the truck, on t-shirts and hand-held fans. At our festival footprint over the two days, we had an activation that included a photo spot with our Forever Proud Rainbow Circle, as well as engaging festival goers with the theme of "Be You Here" where we asked them where they felt the most "here"—where do they feel like they can be themselves. We do a ton of marketing around the event and lots of experiential activations.
CM: What kind of reaction do you get?
AO: When our float goes by and we're all wearing our Forever Pride Circles, we see people holding up their [TD Bank] debit and credit cards because what we do is real and it's authentic.
CM: Do you market to the community specifically and/or as part of your general marketing or both?
AO: We do both. For us it's important to show directly that we're a supporter. That means being there at Pride and understanding the insights around the community and also doing outreach to specific communities. We're still learning our way through like everyone.
CM: How do you interact with the community from a creative standpoint?
AO: We're really sensitive to making sure that we're doing it the right way. The piece about leveraging our colleagues to really give us feedback before we go to market is really important. I'm seeing it every week that we're representing the community in various forms.
CM: Which channels do you use to market to the community?
AO: We use everything. We found social and experiential to be most engaging for us. That means some of the Pride stuff, but socially our content around Pride and communicating to this community has some of the highest ad recall of anything we do. It shows that when you try to connect on a deep and authentic level people get really excited about it. We have 1,400 stores throughout our footprint and as we're going to Pride events, we try to create the dialog in our stores through merchandising.
CM: I understand this community is extremely loyal to brands that understand it? Have you found that?
AO: Yes, we measure the success of our engagement with this community in many ways—recall of our messaging/ads, engagement in our events/social and just sheer anecdotal feedback from our customers, colleagues and communities about their appreciation of our efforts.