The Microsoft Tiny House—2019 Gold PRO Award
This is the first in a series of articles featuring 2019 PRO Awards Gold winning campaigns.
Best Campaign Targeting Gen Z
Brand: Microsoft
Campaign: Microsoft Tiny House
Agency: Riddle & Bloom
College students spend more per year on technology than any other stage in life, and Microsoft needed to increase awareness with this key demographic. Getting past a perception that it didn't connect with the college lifestyle was a must.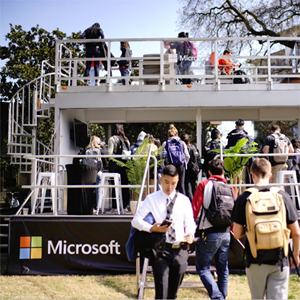 Rather than "go big or go home," it went… small, with the Microsoft Tiny House, a fully-custom, 24-foot pop-up interactive lounge space that capitalized on the hot small dwelling trend. The moveable interactive space on wheels was equal parts educational and recreational—a study lounge that doubled as a coffee house, gaming space and roof-deck hangout spot.
The experience toured to 10 college campuses across the country in spring 2018, making two- to three-day stops to engage with students and faculty at campus bookstores, orientations and other events.
The goal was to get college students to spend time with Microsoft in a new way, and build buzz with a small-scale budget. To make that happen, the Tiny House included self-lowering wall panels that unfolded to become the flooring and increase footprint space for full activity. Inside featured a lounge and beverage station, Xbox games, a music stage, an area for product demos and swag giveaways and more.
The Tiny House program turned out to be prime real estate: The 10 schools visited saw a 15 percent lift in Microsoft active users YOY, with 65 percent of students who interacted with the promotions saying they were likely or very likely to use Office365. The program boasted 52,125 unique passerby impressions, 10,992 unique engagements and an average dwell time of seven minutes.
---
---