Avon Wipes Clean its Marketing Playbook with a Fresh Makeover
Avon is facing several challenges. It's an aging brand—130 years old— that people often equate with their mom hosting parties for neighborhood ladies in the living room. It's also being challenged by newer, more modern brands like Fenty and Glossier.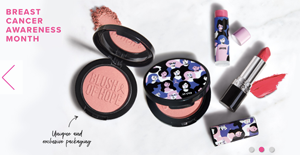 So Avon is on the move. It has gotten out its makeup remover and wiped clean its "marketing rule book." The book has been replaced with a plan aimed directly at Gen Z—young people aged four to 24.
The strategy calls for a three-point plan that will upend every aspect of Avon's marketing.
The outcome is in the hands of Chief Brand and Beauty officer James Thompson, who will have been on the job one year in November. He has been charged with rebranding the company.
"It's about products, positioning and doing the right thing. That's how we're addressing the next generation," he told Marketing Week. "We've got an opportunity to be one of the iconic businesses that is relevant and characterizes this part of the 20th century."
---
Other articles you might enjoy:
---
The first line of defense is to streamline innovation through social listening and other tactics. Avon recently introduced a new mascara based on listening to what social users wanted in their mascara products.
Spotting trends before a trend even becomes a trend is the second point in the plan. The goal is to capitalize on those trends—and to get in market—quickly, like the launch of its first Korean beauty range.
The third point leads to where Gen Z spends much of its time—Instagram. Products will be photographed to be Instagram and sharable worthy.
"The way we bring products to life in terms of our visuals has really evolved," Thompson said. "At the same … we've been the world's largest funder of causes that are critical to women's rights such as breast cancer awareness and gender-based domestic violence."
Technology will help with personalization, like what effects the environment has on skin type and skin coloring.
"If you can close the day knowing you've done your best you can't worry, and I know this company is doing its best," he told Marketing Week. "It's doing huge work to innovate, to refresh our product pipeline, to work more innovatively across the brand, to be more relevant and to work more collaboratively."