Mitsubishi Starts the Adventure with "Small Batch" Test Drives
Mitsubishi Motors North America is homing in on small, specific clusters of consumers, and encouraging them to take test drives at hometown events.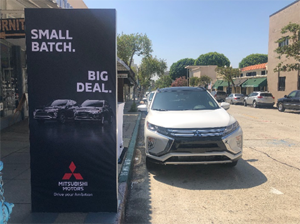 BirdDog, which powers the pop-up events, uses sophisticated social media listening, artificial intelligence and hyper-local geo-targeting technology to identify clusters of consumers matching a detailed prospective buyer profile of the Mitsubishi target audience. From there, categories of venues are identified that are of interest to, and attract the target audiences and prospective customers to visit the "Small Batch Drive Experience."
Locations for the pop-up test drive experiences include farmer's markets, coffee shops, local retailers and ice cream parlors. Why are these spots a good fit?
"People in that mindset of wanting to do something local, wanting to support small businesses in their communities, [so they're a good place to tell]  a story about Mitsubishi and potentially go for a test drive," says Kimberley Gardiner, vp and CMO, MMNA.
Mitsubishi has a network of 360 dealer partners across the U.S. Last year marked the brand's sixth consecutive year of sales growth. It has a continual mission to sharpen the focus on future growth and innovation, says Gardiner, and the way it communicates with current and prospective customers as it goes to market.
"We're not letting our size dictate our success and we're not necessarily trying to be a smaller version of every other brand, especially large auto brands that are out there carving their own path," she says. "We want to celebrate being small, which means we can be nimble and can do things differently. We can tackle challenges that the industry maybe hasn't been so quick to challenge and change and do things are our own way."
The "Small Batch Drive Experience" features the Mitsubishi Eclipse Cross, Outlander Sport, and the plug-in hybrid, the Outlander PHEV. The hashtag #SmallBatchDriveExperience helps drive the conversation on Facebook, Twitter and Instagram.
In the run up to the test-drives, the marketing narrative talked about the brand's lineup of vehicles, where it's headed as a brand and about how it can make discovery, shopping, purchasing and ownership different.
---
Other articles you might enjoy:
---
"Not a lot of people know of us and awareness and familiarity are huge challenges for us to overcome," Gardiner says. "And while we could try to do that through a large advertising campaign and mass marketing, we're trying to do that small-batch style, one community at a time, one set of consumers at a time."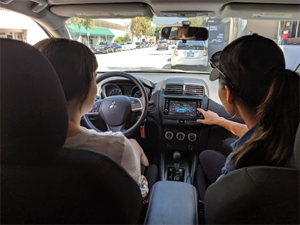 The program kicked off Aug. 28 in Los Angeles and will then move to San Francisco before wrapping up in New York Oct. 2-13.
Consumers who participate in the program receive a Mitsubishi Adventure Card redeemable that day at the participating test-drive location.
Mitsubishi is collecting email addresses for future marketing and to matchback those who visited its website to see if they configured a vehicle or actually made a purchase. Data points, like future consideration and how likely they are to visit a Mitsubishi dealership, are also collected.
"The results and the reactions we've seen from people to Small Batch over the last several months are really positive—from our owners to people that are looking at the brand—they really like this idea of a small brand that can really make big things happen," she says.