Ikea Stages Anti-Bullying Social Experiment
Some brands have been staging social experiments around important issues like bullying that can draw enormous interest and exposure for the company from both the national media and social media.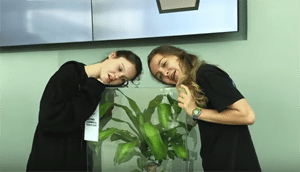 Ikea is the latest to stage a live experiment. Called "Bully a Plant," the goal was to raise awareness on the effects of bullying. The retailer installed two plants at GEMS schools in UAE and then taunted one of the plants with insults and the other with compliments using audio recordings. Behind the plants a poster on the wall indicated which plant was being bullied and which one was being complimented.
As the students looked on and kept watch, the recordings played for 30 days feeding the plants with insults like "You look rotten," and "Are you even alive?" at one, while praising the other with compliments like, "You're making a difference in the world," and "I like the way you are."
---
More on social experiments:
---
Ikea said that after the 30 days, the bullied plant drooped and looked unhealthy while the other plant remained healthy looking. Some questioned whether there was any solid science behind the experiment, created by Ogilvy, as students took note of the changes.
The New York Post reported that Alana Schetzer of the University of Melbourne wrote online: "Plants may not have eyes, ears or a tongue, but their skin can perform many of the same functions… [They] can respond accordingly."
Even thought the Ikea experiment was isolated to one school system, the video greatly amplified the message, already drawing close to 204,000 views, as well as lots of media attention and goodwill toward the retailer.
Also called, experimental advertisements, Burger King drew plenty of attention last October with what it termed a "social experiment" during National Bullying Prevention Month.
In a partnership NoBully.org, a teen gets bullied inside a Burger King restaurant by a group of peers. Customers ignored the harassment and looked away even as the bullied teen begged the others to stop. But when those same customers were served Whopper Jr.'s that had been "bullied," or smashed by kitchen staff, they did not hesitate to raise a stink. The event was turned into a 3-minute PSA campaign and the YouTube video has been viewed more than 5.5 million times.