Bullied Whopper Riles Customers, but Sends a Strong Message
October is well-known as Breast Cancer Awareness Month when the country turns to a pink-colored hue, brands add the color to packaging and and NFL players pull on pink socks. It's a time when the pedal is put to the medal to raise funds for breast cancer research and awareness.
But the month also brings, albeit a lesser-known cause, National Bullying Prevention Month. Powerhouse brand Burger King is helping to change that by bringing attention to bullying in a partnership and social experiment with NoBully.org.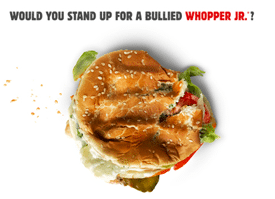 I find the "Bullying Junior" video hard to watch. It shows customers in a Burger King restaurant ignoring a teen being bullied by a group of teens (all actors), who begs them to stop. If that isn't disturbing enough, when those same customers get served Whopper Jr.'s that have been "bullied," or smashed by kitchen staff, they do not hesitate to raise a stink. I love the big, burly guy in the kitchen who smashes the burgers to smithereens with one swift punch to the bun and then asks the disgruntled customers when they come up to complain if they had asked for a "bullied" or "un-bullied" burger. Some of the responses are memorable. Some can't be repeated here.
It's hopeful to see a brand like Burger King take on the issue in a 3-minute PSA campaign that does have its funny moments, but clearly spreads an important message: If you see someone being bullied, stop it.
Bullying is the No. 1 act of violence against young people in America, according to NoBully.org.
"While [the teen] was helplessly harassed by his "friends" both emotionally and physically, not many people were willing to take a stand. The outcome was shocking, and unfortunately, not so shocking at the same time," Burger King said.
Watch the video from the Miami office of David, which has 8,500 views so far, and let us know what you think.
Related articles: