Get Out of the Water! Shark Week Promotions Are Back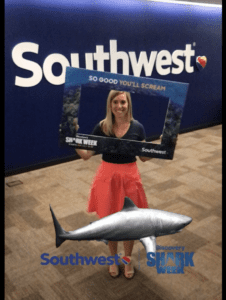 The Discovery Channel's annual Shark Week kicked off yesterday, and brands like Southwest, Century 21 and LandShark Lager are riding on the fins of the annual event for some interesting co-promotions.
Sharks in the Skies With Southwest
You may have thought that a Sharknado was the only way sharks could fly. Thanks to Southwest, you'd be wrong.
The airline's partnership throughout July included an augmented reality experience fans could access by downloading a filter to the cellphones and selecting one of the five most-popular sharks featured in Shark Week programming (Great White Shark, Hammerhead Shark, Mako Shark, Tiger Shark, and Bull Shark). The shark swam across their screens, and users share a photo or video of the experience with the hashtag #SharksTakeFlight.
Travelers could also view a library of Shark Week content on via the Onboard Entertainment Portal on Southwest flight, such as "Extinct or Alive: The Lost Shark." Before their flights, Southwest employees hosted games to entertain fliers near gates in 40 airports. A "Dare to Dive" sweepstakes was also promoted throughout June, offering the chance to win a trip to Nassau, Bahamas.
LandShark Toasts to Shark Week
LandShark Lager, the official brew of Margaritaville, is partnering with global conservation activists  Shark Angels to create awareness around the issues facing sharks' ecosystems  Through the initiative, LandShark will donate funds to adopt 100 sharks and will bring the cause to life with a sweepstakes.
Six lucky winners and their friends will win an all-inclusive two-night trip to the Magaritaville Resort in Hollywood, FL, where they will have the chance go on an actual shark drive. To enter, fans 21+ need to text SHARK to 78896 between now and Aug. 24.
Century 21 Offers a Great Escape
Of course, if you'd prefer to be less close to sharks, Century 21 has got you covered. This week, the real estate firm is stepping up to help folks find their new dram home in Northern Kansas, the farthest location from either coast.
---
You May Also Enjoy:
---
Throughout Shark Week, the brand will respond in real-time to anyone on social media expressing a fear of sharks with home listings that are most definitely not beachfront property, using the hashtag #sharkfreelistings. Local affiliated agents in the area are helping create custom video content to be featured as part of the promotion.
"There have been zero shark attacks reported in Northern Kansas, which makes it a great place for anyone with a fear of sharks to call home," notes Mike Miedler, president and CEO of Century 21.
Personally, we live near the coast and have no plans to relocate, as long as Shark Fighter stays on the job.