Wix Partners With Fortnite Team FaZe Clan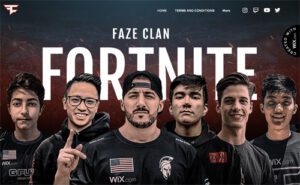 Cloud-based web development platform Wix.com is partnering with Fortnite team FaZe Clan in a multi-faceted esports marketing partnership.
The partnership was announced this week in advance of the Fortnite World Cup Finals at Arthur Ashe Stadium in New York later this month, where players will compete for some $30 million in prizes.
While Wix has done sponsorships with sports teams in the past, such as the New York Yankees, this is the company's first foray into esports, says CMO Omer Shai.
"This is definitely the target audience we would like to reach," says Shai. "Our target audience is there. They're smart people who like to play games, and like to watch and talk [about gaming.] Esports was an ingredient we wanted to add to the mix, and FaZe is a great team to work with. The opportunity to create dynamic content for FaZe Clan's brand and their millions of fans is exactly the kind of engagement we love"
As part of the deal, Wix will serve as FaZe Clan's official web development partner, building sites for the team and some of its top players. The Wix logo will be featured on FaZe Clan's social media channels, website, live streams, and on the team players' jerseys.
---
You May Also Enjoy:
---
FaZe Clan, founded in 2010, is comprised of Youtubers, live streamers and pro esports players. The team over 210 million fans internationally.
ROI for the sponsorship will be gauged mainly on engagement with content related to the team, says Shai. "It's not a short-term investment, its long-term."
In addition to sports sponsorships, Wix is also partnering with entertainment companies to create engagement with developers. This spring, it teamed up with Marvel Entertainment for a promotion tied to the movie "Captain Marvel" to help launch a new Wix Turbo offering.
To learn more about the intersection of esports and marketing, join us Sept. 10-12 for the ESports Business Summit at the MGM Grand in Las Vegas.