Comic-Con 2019: A Round-Up of the Best SDCC Activations
Sure, San Diego's Comic-Con International began as a celebration for fans who enjoyed reading comic books. Today, the massive event has become much more interactive, with activations that bring fans right into the action with their favorite characters.
Here's a look at some of the most interesting activations at this year's SDCC.
Batman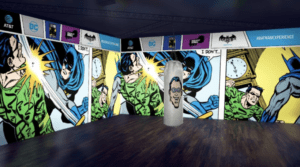 "The Batman Experience Powered by AT&T" is the latest example of the new corporate synergy between AT&T and Warner Bros. Designed to celebrate the 80th anniversary of the Dark Knight, the three-story 68,000 square foot exhibit included costumers, props, comics, art and vehicles, such as the iconic Batmobile from the 1989 film starring Michael Keaton.
As Forbes reports, the main attraction was "The Dark Knight Dive, a VR skydiving interactive experience that flew attendees through Gotham City, where they could meet up with encounter many of Batman's villains and allies. Those not quite ready to take to the skies could play arcade and console versions of Batman games in the Batcave, or take out their aggressions by kicking and punching sandbags in the Rogues Gallery Rumble. Projection mapping and lights in this area made attendees feel like they were fighting in the classic 1960s television series.
Pennyworth
Speaking of Batman, fans interested in the adventures of Alfred Pennyworth before he became Bruce Wayne's trusted butler could step into the 1960s London in an activation promoting EPIX's new series.
Guests who entered the Oxford Social Club were asked for the secret password to gain access to The Scarlet Robe, a "high-society lounge" featuring gambling, drag performances and live music.
In the club's library, members of the shows mysterious Raven Society tried to convert visitors to join their ranks. Guests who venture into the group's secret HQ (and dungeon) heard a macabre live poetry reading and learned the dark secrets of the association.
Brooklyn Nine-Nine
Also on the side of the law at SDCC was "Brooklyn Nine-Nine." As described by CNET.com, the activation was "part escape room, part comedy act."
Visitors were deputized as new recruits to join the 99th precinct. The recruits enter into a briefing room, where they interact with an actor dressed as an officer. He introduces a video featuring stars Andy Samberg and Terry Crews, among others, and then the experience becomes escape room-like, as guests are led into a recreation of the "Brooklyn Nine-Nine" set and given tasks to help solve a case, patterned on the fan favorite "Halloween Heist" episode.
Shazam! And Pokemon: Detective Pikachu
Captain Sparkle Fingers and Pikachu might not seem like the likeliest of duos, but chalk it up to another moment of Warner Bros. corporate synergy.
The two films shared side-by-side activations at Comic-Con to promote upcoming home video releases. As SyFy.com explains, a subway station in Ryme City (the setting for "Pokemon: Detective Pikachu") is the entry point for the activation, where fans could see transit maps that detail the fictional city's geography.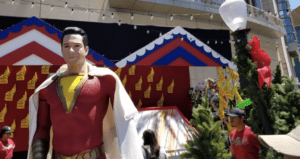 From there, visitors could check out a number of Easter Eggs from the film, such as a caged Psyduck and reproductions of important elements from the video game that inspired the movie, like the Thunder Stone.
The activation fed into a line for Shazam!'s activation, where fans could experience a recreation of the carnival from the film, complete with Christmas in July decorations. Those who tested their skills at carnival games like ring or basketball tosses won a coveted prize, Shazam! Lightning foam fingers.
Amazon Prime Video Experience
Amazon took over an entire block in San Diego to promote three upcoming shows for Comic-Con, "The Boys," "Carnival Row" and the Expanse.
The streaming service went all out to engage visitors, reports Syfy.com. In addition to the experience, each guest received five silver coins they could spend on food and beverages within the activation. A lucky few also earned a gold collectable coin or access to a secret comic book shop if they found hidden clues.
---
You May Also Enjoy:
---
In "The Expanse" activation, fans got a tattoo (to signify they were born in the asteroid belt), flew through space and became embroiled in an intergalactic skirmish. As a reward, a futuristic cup was given to each visitor. It comes with a lid, notes Syfy, perfect for no-gav imbibing.
"The Boys," a soon to debut series, centers on a world where superheroes are hated, because they've embraced the dark side. The title characters have set out to take down the corrupt heroes. In the 18+ experience, visitors find clues, destroy evidence and try to avoid getting stabbed in the "exotic" location of an electronics store where a Cadillac has crashed through the window.
"Carnival Row's" activation is also geared to ages 18+. Once it is determined whether a visitor is a Human or a Creature, they're led down an alley to den of debauchery that sounds part music-hall, part pseudo brothel. Some visitors are pulled aside and clued into a evil entity, neithr human nor fae that likes to murder and wear the body parts of its victims.