Avengers: Endgame Marketing—The Final Countdown
Considering that it managed to crash numerous websites the morning tickets went on sale, it's safe to say that the release this week of Avengers: Endgame is—to quote another great hero—"kind of a big deal."
Naturally, there's a few brand marketing tie-ins in the campaign, estimated at a whopping $200 million, the biggest ever for a Marvel film. Before reality gets rewritten again, here's a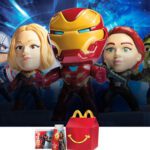 quick round-up of a few of the promotions:
C'mon, Get Happy Meals
There's a battle to be fought, and since an army marches on its stomach, there is, of course, Avengers: Endgame Happy Meals. Starting April 23, fans who purchase a Happy Meal at McDonald's will get one of 24 collectible Avengers figures. And on the McD's mobile app, a team of seven virtual Avengers can be unlocked to view behind the scenes video from the film.
No More Mr. Nice Geico
In a new commercial, the Geico Gecko imagines what he would do with the power of the Infinity Gauntlet (hint: has something to do with insurance). This isn't the first time the Gecko has teamed with the Marvel heroes: In an Infinity War spot, he imagined himself fighting alongside the team, albeit in action figure form.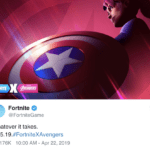 Fortnite Fever
Endgame directors Joe and Anthony Russo are huge fans of the game, so it is not a surprise they are teaming again with Fortnite for an Avengers mash-up. Last year, Thanos himself appeared in the game for an Infinity War crossover. This week, teasers began popping up on social media showing a Fortnite character wielding Captain America's shield in advance of the collab, set to debut tomorrow, April 25.
Everybody Hertz
The car rental company is also featuring the team in a new TV spot, where travelers are urged to avoid battle scenes and leave the drama to superheroes like the Avengers. Through Dec. 31, Hertz is also offering renters who book with a promotional code two free movie tickets through Fandango.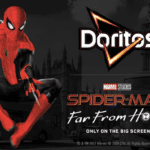 Stayin' Alive with Doritos
Considering that Spider-Man: Far From Home is hitting theaters in July, it's a good bet that Peter Parker is back in the land of the living at the end of Endgame. So while we're still waiting for some of the Avengers tie-ins to debut, it isn't too early to look ahead to Dorito's collaboration with the webslinger, which will include Spider-Man red chips in 20 countries, including Australia, Mexico and Columbia; and a "Spidey-Sense Challenge" online game in North America. And, specially marked Doritos products in some markets will feature codes to enter a sweeps for superhero inspired prizes, including a European trip for two.
---
You May Also Enjoy:
---