Free Coors Light for All Should Bud Light Attack … Again
The beer battle rages on.
After Bud Light called out competitors Coors Light and Miller Lite during its Super Bowl commercial for using corn syrup in their brewing process, the beer biting still hasn't died down.
Weeks later, Coors parent company SABMiller called the attack "misleading" and organized a "Toast to Farmers" event honoring American Farmers who grow the ingredients used to make beer.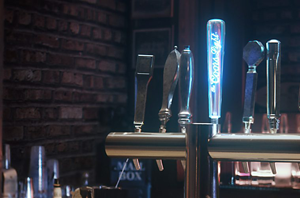 This week, the battle continues as Coors Light unveiled a new smart beer tap handle that's "fueled by Bud Light negativity."
The next time—and there will be one—that Bud Light talks about Coors Light on social or broadcast media, the tap handle will light up and free Coors Light will start flowing for customers.
Bud Light's activity will be monitored in real time when the promotion begins March 22. Bars in five cities will be participating: New York, Philadelphia, Dallas, Omaha and Las Vegas, timed to coincide with the start of the national college basketball tournament.
"When they bring hate, we will literally bring light," Ryan Reis, vice president of the Coors family of brands said in a blog post. "The more Bud Light talks, the more we refresh."
Coors Light claims that since the Bud Light Super Bowl ad ran, its sales have slumped.
"America's top-selling beer was down 8.8 percent in the four-week period since the Super Bowl, plunging the brand farther into the red for 2019, according to Nielsen all-outlet and convenience data through March 2. And instead of winning over drinkers with its promises of "transparency," the opposite appears to be happening: Since the new campaign launched, Bud Light's share losses have accelerated, Nielsen data show, Coors Light said.
---
You May Also Enjoy:
---
"Bud Light has been attacking us out of frustration for weeks now," Reis says. "We believe people just want to move on. So we invented this smart beer tap that does the listening for them—and even better, turns Bud Light's negativity into rounds of Coors Light on us."
Should the tap, called "The Coors Light," illuminate patrons shouldn't expect to go wild; each customer will be held to a two-brew limit that will be monitored with wristbands.
For cities that don't have a smart tap, a round of Coors Light for the bar will be served if an ad for Bud Light runs during one of the basketball games.