Skechers Rips Nike Over Exploding Shoe
Sneaker brand Skechers, as brands will do, has taken advantage of Nike's recent bad luck.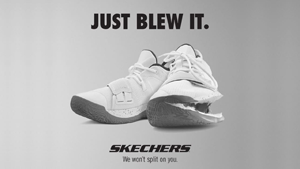 Over the weekend, Skechers debuted a new ad targeting Nike and the now infamous sneaker-gate epidsode when on Feb. 20 Duke freshman Zion Williamson experienced a shoe blowout during the first minute of the Blue Devils' nationally televised game against archrival North Carolina. The incident became a national talking point.
The ads, both in print and online, read in large bold print, "Just Blew It." taking a shot at Nike's slogan "Just do it." The words appeared along with a photo of a pair of exploded kicks, Skechers logo and smaller words at the bottom that read: "We Won't Split on You."
---
You May Also Enjoy:
---
The ads are placed in high-profile media including USA Today, the Wall Street Journal and on page 3 of the New York Times' sports section. Instagram users have been having a field day.
Puma was another brand that jumped on Nike. The Puma Hoops account tweeted about it the night Williamson went down on the court posting: "Wouldn't have happened in the Pumas." However, the German sportswear company generated negative attention for the post, which it subsequently deleted, footwearnews.com reported.
William, 18, suffered a knee sprain in the fall and is expected to be the top pick in the 2019 NBA Draft.
While the Twitterverse blew up with comments, the real impact for Nike, however, may come in a few months. Williamson wears Nike now because of Duke's deal with the company. When he turns pro, he will become one of the most sought-after endorsers. If the injury leads Williamson to sign elsewhere, that would be a meaningful loss for the Beaverton, Oregon-based company, Bloomberg reported.