The Element of Risk in B2B Marketing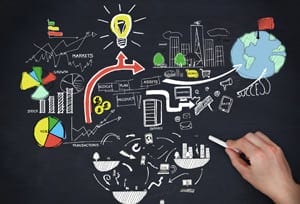 Think the road to a B2B sale is straight and narrow? Think again.
B2B buying experiences seem unpredictable because the number of decision makers involved make the buying behavior seem non-linear, said Christopher Penn, vice president, Shift Communications, speaking at the recent MarTech conference in San Francisco. There's also the fact that B2B buyers are risk averse, thanks to the high stakes involved in many decisions.
"If risk is involved, humans get emotional, and that's where predictability goes off the rails," said Penn. "Humans are driven by a mixture of risk and reward—reward drive us forward, and risk drive us back."
Everyone has a different risk profile, he continued. Some people are go-getters who throw caution to the wind, while others are risk averse, and prone to hesitate.
"If you take a lot of different types and put them together in a group, the group dynamic skews to the risk averse side," he noted. "The likelihood of a purchase getting completed drops significantly if there are more people involved."
"Tracking the a team of B2B buyers is like following a game of three card monte," he said, noting that because there is often six to 14 decision maker involved in a B2B decision, it can be hard to know where to look. "You need to speak to the language not of the individuals involved, but of the group involved."
Artificial intelligence and machine learning can help B2B marketers do just that, he said.
"Think about how a child learns," said Penn. "They explore, they develop. We have sensory pathways and develop learning—AI is nothing more than machines being able to perform tasks that normally require human intelligence."
"Everything you do in life is an algorithm," he noted. "If you take the same route to work every day, that's a type of algorithm."
More From MarTech:
Data Lets Electronic Arts Put Players First
Capital One Engages Developers With Personas
Tom Fishburne Toons Into the Funny Side of Marketing
Predictive Analytics Helps SAP Reach New Audience
Centralized Data Hub Puts Dr. Martens in Step
Sprint, Microsoft, Experian See Opportunities in AI
2017 MarTech Landscape Grows to 5,000+ 
Coffee Perks Up Domo's ABM Strategy