Tom Fishburne Toons Into the Funny Side of Marketing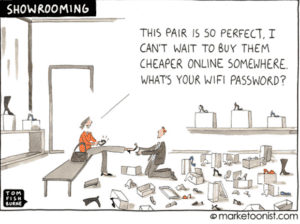 Marketing is moving at a tremendously fast pace today, so fast that sometimes, it can be pretty funny.
"There have never been more opportunities, but marketers are often jumping at the shiny new thing without understanding what it is all about," said Tom Fishburne, CEO, founder and creative mind behind Marketoonist, a content studio that uses cartoons to see the lighter side of the marketing landscape.
Fishburne spoke at the recent Martech conference in San Francisco, where he shared several examples of how marketers try hard, but sometimes miss the mark.
Consider QR codes on the sides of busses or billboards, for example. Not only are they near impossible to capture without causing a traffic accident, but the consumer who does manage to catch them is then often sent to a landing page not optimized for mobile.
Fishburne, whose career in cartooning began by copying cartoons with Silly Putty and then changing the dialogue to poke fun at his brother, noted that one of his first marketing jobs was working on the Green Giant account. There, he found a creative brief written by a young Leo Burnett, which worked with the presumption that there was a captive audience for advertising, so marketers could define the message.
Today, of course, the landscape is much different. The marketers of 2017 don't even have a captive audience when they are literally in a retailer's store. Fishburne captured this with a cartoon of a woman trying on shoes and telling the poor sales associate "This pair is so perfect! I can't wait to buy them cheaper online somewhere. What's your wifi password?"
Initially though, many brands didn't want to accept the fact that consumers are now in control, and if you trust them, they might just do your job for you. As an example, Fishburne described World Nutella Day, an idea started by a consumer who simply loved the brand and via social media, encouraged other aficionados of the spread to share their passion. The brand's first response? A cease and desist order. (The matter was later settled, and she eventually turned over the holiday to Nutella's parent company Ferrero.)
Fishburne also noted the example of the Kentucky tourism campaign "Unbridled Spirit," which generate positive, but unimpassioned, feedback.
This inspired a couple of Kentucky creative to create their own campaign, Kentucky Kicks Ass, a livelier take on the state. The unauthorized slogan got a lot of attention and PR from multiple sources, including a mention by late night host Conan O'Brien.
The official campaign was not amused. "We certainly would not sanction or endorse that phraseology," state tourism spokesman Pat Stipes told USA Today. "These guys are Kentucky natives and they love the sate. But they have a different constituency. Which is no one."
The Kicks Ass tribe responded by adapting #constituencyofone as a hashtag and running with it.
Why do approaches like this work? Simple, said Fishburne.
"The best marketing doesn't feel like marketing."
To see more of Fishburne's work, visit Marketoonist.com.
Related Articles:
Cleese and Offerman See the Funny Side of Content
Reshaping the B2B Buyer Experience
Logicalis Uses Humor in IT Campaign