2017 Marketing Tech Landscape Grows to 5,000+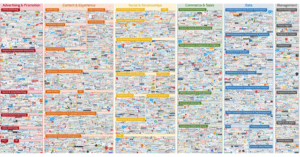 Get out your magnifying glasses: the 2017 Marketing Technology Landscape Supergraphic debuted this week at MarTech in San Francisco, featuring an astounding 5,381 solutions, 39% more than last year.
Only 4.7% of the solutions listed on the 2016 edition of the landscape were removed, while another 3.5% changed in name, focus or ownership, noted Scott Brinker, editor of ChiefMartec.com and CTO of Ion Interactive. Anand Thaker, CEO of IntelliPhi, collaborated on this year's graphic.
The explosion of technology isn't unique to marketing, said Brinker, noting that it was also happening in other areas such as sales, HR and finance.
Still, the rate of growth is fairly astonishing. Only about 150 companies were listed on the first version of the graphic in 2011.
Twenty-one percent of the companies—over 1,000—label themselves as a platform, he noted. For years, many marketers debated whether it was better to go best of breed when looking for a tech solution, or to go with a suite. Today, it's no longer an either or situation.
The growth in marketing and the rate of innovation has made it virtually impossible for one vendor to deliver everything a marketer needs. Most major providers acknowledge this and are shifting their strategies to embrace this new reality, becoming hybrid "platforms" that make it easier for marketers to plug in a variety of specialized solutions, says Brinker.
The range of companies represented in the graphic showcases the long tail of marketing tech vendors. There are a few $1 billion+ giants, dozens in the $100 million+ range, and then thousands of under $100 million innovators, specialists and new challengers.
Brinker noted on the ChiefMartec blog that the number of the companies on the list shouldn't lead one to assume the majority of the companies featured are tiny: 6.9% are enterprises, with over 1,000 employees or are public, 44.2% are private businesses, with under 1,000 employees or no funding data, and 48.8% are investor-funded startups at any pre-exit stage.
"It's also true that over 2,300 others have received some sort of investor funding—which implies scale beyond a couple of rouge developers in a garage. Or, for a more modern-day cliché, two people in a coffee shop," he wrote.
Related Articles:
3 Ways to Reap the Benefits of Marketing Automation in 2017
Brawny, Ann Taylor, P&G Use MarTech to Say Happy Mother's Day
Special Report: Using B2B Data Throughout the Purchase Cycle