Coffee Perks Up Domo's ABM Strategy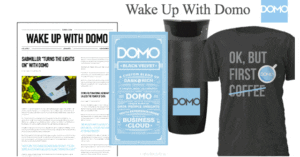 Account based marketing (ABM) helped Domo connect with key prospects using a digital and direct mail campaign brewed around the concept of coffee.
Domo, a marketing dashboard provider, began by working with Terminus identifying target accounts. Nate Hurst, manager of ABM at Domo, noted that customers had referred to checking their dashboards as a great way to start their day, much like a good cup of coffee. Domo built a campaign around the concept, called "Wake Up With Domo," to connect with CMOs who might not be familiar with the brand.
With the help of PFL, a direct mail kit featuring branded swag—including coffee, a t-shirt, a tumbler and collateral designed to look like a morning newspaper—was created and mailed to a few hundred CMOs. To surround all the contacts within target accounts beyond the c-suite, a smaller version of the kit was created with just a tumbler and the print collateral. An even smaller version with a coaster and the collateral was also sent to some influencers. The result was that instead of just reaching one person in a target account, Domo was able to make an impression on up to 30.
Domo worked with Terminus to create digital advertising tying into the theme. Taglines in the ads included "Wake up to a full-bodied blend of business insights," and "Get your morning buzz with Domo, you'll like it a latte."
A series of emails were built around the theme, to drive prospects to a landing page where they could request more information or the chance to meet up with a sales rep for—you guessed it—coffee.
The goal was to create advocates for the brand. Domo saw a five to seven time return on spending for the coffee campaign, and in one instance, an enterprise account with 2,000 licenses grew to 10,000, as the focus shifted from not only prospecting to customer expansion.
Hurst spoke at the MarTech conference in San Francisco this week.
Related Articles:
Is Predictive Analytics Your ABM Silver Bullet?
7 Ways to Turn ABM Into a Revenue Driver