Data Lets Electronic Arts Put Players First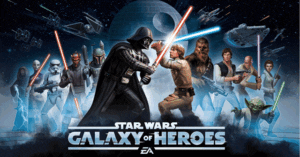 Effective use of first-party data has enabled video game company Electronic Arts to follow through on a brand promise of putting the needs of players first.
"We're leveraging our data—we don't want to just collect it and not just use that," said Glenn White, director of marketing infrastructure, Electronic Arts (EA)."It might not be easy, but we have a commitment [to making it happen]."
Because Electronic Arts' games are online, they have an understanding of their customers' behaviors that marketers in CPG or other verticals might not have access to, thanks to the behavioral data EA is able to collect, said White, speaking at the recent Martech conference in San Francisco.
EA publishes a number of different game titles, including "Star Wars Galaxy of Heroes," "TitanFall 2," "Madden 18" and "The Sims 4."
For the past several years, the gaming company has been looking at ways to optimize against lifetime value, game player sessions and player satisfaction.
The concept of "Player First" isn't just an empty phrase, White noted. If you walk around EA's Redwood City, CA campus, you'll see signs everywhere reminding employees of the philosophy.
"Marketers have specific ideas of what they want, but [you need to think about] what is best to do for the player," he said. "That changes the conversation, and you no longer think about something being too labor intensive or costly. You think about the player first."
The key is to make the compromises necessary to make that happen and deliver on this promise, without hurting the brand.
EA worked with Datorama to build a centralized database, to enable it to create better player—and marketing—experiences. Part of this was being able to tie data points back to individuals, and create a progressive identity chain to tie everything together.
Analytics were used to determine who needed to be contacted, when and why, and send dynamic emails to encourage certain actions—such as playing a particular game or collecting a game bonus—based on where they are in their gaming lifecycles.
Awareness campaigns around the launches of games were also created, driven by player actions. EA looked at how many people played a game after opening an email, or viewing videos about games. Which channels best engaged players were also analyzed, said White.
"Preferences make a difference in how we contact people," he said. "We do different things based on channel preferences."
Related Articles:
Data Lessons Learned from IGN, Brooks Running and MVMT
Centralized Data Hub Puts Dr. Martens in Step
Everyone Wants to Be Groot—The Guardians Marketing Blitz