Engagement is Key to Modern Loyalty: Brierley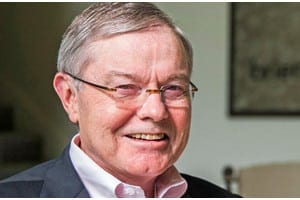 Hell hath no fury like a spurned loyalist, says Hal Brierley, and that means marketers need to understand what loyalty program members really desire.
"In my mind, what the consumer wants is simplicity and immediacy of rewards," says Hal Brierley, founder and CEO of The Brierley Group in Dallas. "Those are the things that resonate."
Customer loyalty is still important, but engagement is the element marketers need to be successful in today's loyalty environment. "Customer engagement is the key to managing relationships," says Brierley, who will be honored with Marketing EDGE's Lifetime Achievement Award at the 2017 EDGE Awards celebration on Tuesday, June 6 in New York.
Brierley has considerable perspective on the loyalty industry. For 30 years, he served as the chief loyalty architect for Brierley & Partners, providing loyalty counsel for some 175 clients, among them American Express, AT&T, GameStop, Hertz, Hilton, Neiman Marcus, Office Depot, 7-Eleven, Sony, United Airlines and UPS. He began his entrepreneurial career as co-founder of Epsilon, serving as its CEO for eleven years.
In 1980, he advised American Airlines on the launch of AAdvantage, the nation's first frequent traveler program. In 1982, he was elected vice president of sales and advertising for Pan American World Airways, where he launched Worldpass, the first global frequent traveler program. And in 1999, Brierley founded e-Rewards, today re-branded as Research Now, the world's largest online market research panel providing survey respondents for more than 2,500 research firms, with sales of $300 million and more than one million members completing one or more surveys each month.
Training the next generation of marketing architects to manage the loyalty process is essential, says Brierley, who is spearheading the creation of the Brierley Institute of Customer Engagement at SMU's Cox School of Business.
"There's a growing level of skepticism among financial executives and CMOs when it comes to loyalty," he says. "Loyalty has a bit of a stigma today. Are loyalty programs too big, too cumbersome? Do we really need them?"
Customers have come to understand the benefits of loyalty programs, and will engage in them. The challenge, says Brierley, is keeping them engaged.
"We're in a time starved world," he notes, adding that just getting someone to enroll in a program isn't enough. "If people haven't redeemed a reward, they're not really playing, and that won't drive profits."
Retail programs have developed a shorter cadence, he says. The original airline programs allowed users to earn a point and members might get a reward that is good for a year. Now, many types of programs offer rewards in a shorter space of time—do something this month, get something next month.
"Engagement is important—you need to get people to redeem things periodically," he says. "You need to understand what a consumer wants from your brand."
Change in loyalty programs can be a great rejuvenator to keep members interested, but you need to explain why the change is happening. Brierley cited Starbucks program as one of his favorites, but said it is a poster child for miscommunicating the reasons why programs change.
"I believe half of customer loyalty success is customer psychology," he says. "I don't think Starbucks understands that there needs to be subtlety in the design and execution of programs."
The dilution or devalution of rewards has been dramatic in some industries, as some companies try to make older programs more profitable. This leads to breaking the customer promise, which needs to be taken into account when trying to improve the economics for the company.
At the end of the day, loyalty programs exist to create consumer behavior change. American initially launched AAdvantage because they wanted customers to identify themselves and give permission to be contacted.
"If we know every time you buy something, ideally we can create a profile and understand your likes and needs," he says. "The first thing I ask the client when starting a new program is what is the consumer behavior you want to change – what makes a customer more profitable."
Related Articles:
What It Really Takes to Earn Millennial Loyalty
Marketing Strategies to Increase Customer Loyalty
Location-Based Marketing & Loyalty: Special Report