What It Really Takes to Earn Millennial Loyalty
For the past few years, it has seemed as if every conversation around loyalty, circles back to Millennials; and rightfully so. Millennials are now the largest generation living in the U.S. and collectively have an annual spending power of $600 billion.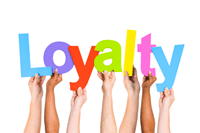 With this in mind, it's no surprise that companies across all industries and verticals are catering to the needs of Millennials as a way to earn our loyalty. Thankfully for brands, 80 percent of Millennials already participate in loyalty and rewards programs, however, they have the latitude to choose and participate in programs that work best for their lifestyles. Millennials may be the most brand-loyal generation, but it is imperative to note that Millennial loyalty is highly selective and they lean away from the traditional punch-card programs based on the number of visits to a store that have long been a staple loyalty program.
While market researchers and cultural commentators have pegged Millennials as unpredictable and inconsistent, this is simply untrue. What they want from brands is clear—they want loyalty programs that transcend the transaction, genuine experiences, customer engagement and convenience.
---
Other Articles You Might Enjoy:
---
1. Experiences
In the past, loyalty programs centered around money. Almost universally, the more you spent, the more your loyalty stock rose in the eyes of brands. However, when it comes to courting Millennials nowadays, brands must reconsider the tried-and-true discount and rewards program. Millennials approach shopping and spending much differently than their parents and grandparents, in fact, almost two-thirds of consumers age 18-29 don't even own a credit card. To attract Millennial shoppers, brands must think in terms of experience, not discounts and dollars off alone.
Take Starbucks, for example. The company's Starbucks Rewards program speaks to the Millennial mindset. Forgoing traditional transactional loyalty metrics, Starbucks engages shoppers with music downloads, games, a 'stars' system and the occasional free coffee. The program welcomes Millennial customers to Starbucks, and the program encourages frequent, high-value purchases. One of the perks of being a Starbucks Rewards member is receiving exclusive deals and notice of seasonal products like the favorite Pumpkin Spice Latte. Of course, brands can approach experience-focused programs in a number of ways, such as offering customers free shipping, skipping a checkout line, early access to a sale or the ability to view products before other customers.
By focusing on the experience, brands can help shoppers feel as if they're a part of something bigger than just a loyalty program, thus building an emotional relationship with the consumer, which is key for Millennials. For Starbucks, a creative, digital loyalty program that rewards customer engagement creates a community of coffee drinkers. In turn, the customers feel valued because they know that their opinions and preferences are heard.
2. Engagement
As a tech-savvy and highly connected generation, it is no surprise that Millennials are drawn to loyalty programs that engage them through various channels. Whether online, through a mobile app or in-store, brands can reinforce Millennial loyalty with a program that keeps them looped in to the brand experience. One such channel is social media, which is not only great for consistent, relevant communication, but also has the added benefit of facilitating peer-to-peer recommendations, which many Millennial shoppers turn to before making purchases.
Brands should also consider gamification strategies. By adding game-like features to their rewards program, brands have the potential to create customizable and rewarding experiences, providing entertainment value to the customer while bolstering engagement.
Some brands might also look to their corporate citizenship—the causes they support—as a way to connect with Millennials. Some of the causes Starbucks has been associated with are race relations, education and the environment. When brands can demonstrate genuine support for causes that Millennials care about most, they can earn their trust and loyalty, in turn providing them with the empowerment to act on these shared values.
3. Convenience
Even a loyalty program with experiential components and engaging qualities will turn Millennials off if it's difficult to use.
While Millennials rely on technology to streamline their lives, they expect digital solutions to augment their experiences, not take away from them. This means that brands must develop loyalty programs that are user friendly and easy to navigate across all channels—whether that's on a laptop, a tablet, or chief among them all, a mobile device. Millennials are quick to abandon slow-loading apps or confusing interfaces that do not save them time or add value to their lives.
Seventy-six percent of Millennials own a smartphone, and their on-the-go and plugged-in lifestyles most support mobile solutions. For instance, 45% of Millennials access coupons via email on mobile devices, and 63% are more likely to buy something if they receive a coupon on their mobile device while near a store. Like other leading mobile solutions, loyalty programs can capitalize on common mobile strategies like real-time alerts, multichannel capabilities, personalization, or even technologies like mobile wallets.
Millennials value their time, energy and hard-earned money. And while they enjoy incredible spending power, they prefer experience to ownership. Brands that want to capture this demographic will have to abandon traditional, shopworn loyalty strategies in favor of new programs that emphasize experience, engagement and convenience.
Kelli Haemmelmann is a Millennial and a loyalty consultant at Kobie Marketing.
This article was originally published in February 2017 and has been updated regularly.