Marketing Strategies to Increase Customer Loyalty
Loyalty is a lot like love. They both come from creating a positive emotional connection with a person (or brand) through a series of positive interactions or transactions that build affinity and become habitual over time. So why is it so hard to get it right?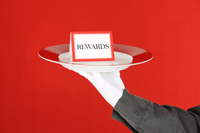 Marketers and retailers should focus their attention on integrating three core marketing strategies to increase customer loyalty. Marketers that operate programs integrating these approaches will see measurable increases in their rewards program enrollment—and a better lifetime value from their customers:
1. Limited-Time-Only Promotions: Get customers in the store with an effective promotional strategy (acquisition).
2. Rewards for Purchase: Incentivize customers to repeat store visits and increase average order value (growth).
3. Points-Based Rewards Program: Enroll customers in a simple points-based retention/rewards program that builds tangible value (retention).
Limited-Time-Only Promotions
Marketers continue to test various pricing promotion strategies, most notably the everyday-low-price policies. Some believe this is more effective than other pricing strategies because "studies show" that customers "want it simple and want it now." Customers are motivated to purchase when they believe the promotional price is temporary (limited time only) and are unsure when they might see that product discounted in the future. Limited-time-only promotions do work, but they won't build a long-time bond.
Rewards for Purchase
In one test, one retailer compared a reward-for-purchase promotion with an instant-discount-at-the-register promotion. The reward-for-purchase scheme resulted in 14% lift.
The promotion strategy was initially intended to increase store traffic by having the reward-for-purchase offer redeemed at the same retailer. This strategy resulted in one to two incremental store visits within 30 to 45 days of the initial purchase, as compared to zero under the instant discount promotion offered at the register. And, it gets better.
The additional store visits led to an incremental 14% in revenue over the initial purchase (compared to 0% in the instant promotion), with 4 percentage points representing additional out-of-pocket funds from the consumer. The remaining 10 percentage points were initially funded by the retailer to the customer as a Reward for Purchase and then spent back at the retailer at full value. Interestingly, more than 50% of the rewards were spent back at the retailer within 60 days of the initial purchase. So, why wouldn't retailers bolster their promotional budgets if the funds are spend back at the retailer and drive additional customer out-of-pocket spend over the course of two to three transactions?
Points-Based Rewards Program:
This strategy was also intended to generate two to three additional point-of-sale transactions, which allowed the retailer to enroll customers in its retention/rewards program and increase program stickiness. Rewards programs tend to increase stickiness when there is increased transaction frequency and recency.
Data collected in the additional P-O-S interactions can be used to:
Analyze customer data to create specific offers targeted to these newly acquired customers. The additional offers may increase product attachment or cross-category success to drive brand affinity or loyalty.
Build predictive models to determine the customer profile of individuals likely to accept "limited-time-only" promotions and increase one-to-one marketing efforts to other targeted customers who fit the model's profile, but who may shop with a competitor.
So why is it so hard to earn a customer's loyalty? Attention spans are shorter, patience is running thinner, and the competition is visible today more than ever.
Building a loyal customer base starts with acquiring the right customers from the start. Your chances of building a good relationship are greater from the outset because there are common interests. The key to long-term success lies in demonstrating value to the customer and building on the foundation established with a properly integrated engagement strategy.
This article was originally published in 2012 and is frequently updated.
Joe Custer is CFO at Trafficware (formerly president and CEO of Young America Corp.) 
 Related articles:
The Location of Loyalty: Special Report
Loyalty Marketing: Where it is & Where to Go from Here