Amex Ups Game at U.S. Open with Augmented Reality Experience
As a long-time U.S. Open sponsor, American Express upped its game with an augmented reality experience that helped bring the U.S. Open to life for fans.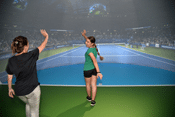 American Express said it knows its card members love the Open, which ended last weekend, with many coming back year after year. The American Express Pro Walk gave attendees the opportunity to virtually experience the same type of journey a pro would have as they walked from the player locker room to center court of the newly renovated Arthur Ashe Stadium. The experience combined replicas of the player locker room and tunnel, holograms of former U.S. Open champions Pete Sampras and Monica Seles, three-dimensional sound and projection mapping of the stadium to make it truly feel like you were on center court.
Deborah Curtis, vice president of experiential marketing for Amex, says experiential is a way to bring the brand and the sponsored event to come to life.
"Given the changes to this year's tournament, we are especially excited to use our position as a service brand to ensure that all fans—from those that have been to the US Open year after year to those who are first timers—are able to experience the U.S. Open like a pro," she said.
This article from CNBC also includes stats from the EventTrack 2015 experiential marketing report and covers other experiential marketing events staged by Refinery29 and the Bleacher Report. Read the article …
Related articles:
Experiential Takes on Multiple Roles
5 Golden Rules of Experience Creation
4 Tips to Engage Millennials with Experiences