Toyota's New Retail Concept Offers Coffee and Car Rentals
A new Toyota retail concept is a mix of fast food, coffee shop, rental cars and a not-so-subliminal message to—when you're ready—buy a Toyota.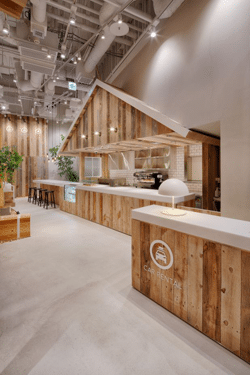 The Drive to Go by Toyota store is located in Nagoya, Japan, and designed to appeal to young drivers who don't want to own a car outright.
The interior is sleek, outfitted in light-colored wood with a café counter to place food orders and a rental kiosk to rent a car by the hour or day. And, camping equipment rentals are also available as an adventurous twist for anyone looking to escape to the mountains for a getaway.
The Drive to Go by Toyota concept is not new, but is an indication of the growing change in how young people think about car ownership. Ford's Go-Drive service pilot test in London ended in 2016, VW's MOIA and BMW's DriveNow are all testing car sharing services and other services that might interest young drivers and get their brands test driven by potential buyers.
"Owning a car is not the status symbol it once used to be," Rei Inamoto, founder of Inamoto & Co., Toyota's partner in this project, told cnet.com. "Nowadays, access is more important than ownership—especially when it comes to automobiles. So why create a traditional car showroom when the audience purchase habit has changed so much?"
The Drive to Go by Toyota concept was developed by business invention studio Inamoto & Co. The company opened in February 2016 and was founded by two former AKQA execs, Global Chief Creative Officer Rei Inamoto and New York Managing Director Rem Reynolds.
Related articles:
Toyota Inks Nearly $1 Billion Olympic Sponsorship Deal