Three Ways to Put Humanity Back into Digital Marketing
A few weeks ago, as my family and I settled into our airplane seats, I received an unexpected mobile notification from the airline confirming that our luggage had just been loaded onto the plane. Knowing that our bags were on board with us was a great way to ease a very common travel concern. It gave me peace of mind in the short term, and moving forward, it also told me that I could rely on this brand because they have my individual experience in mind.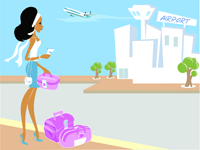 I've always believed brands who can anticipate their consumers' needs and find ways to delight them will lead the pack in earning loyalty and setting new expectations for creating strong brand experiences. But as a marketer, how do you achieve utopia by humanizing marketing? It can be daunting to think about activating all of the potential touchpoints of value. As you strive to reach audiences personally in an increasingly digital, unfeeling, and omni-channel industry, here are a few ideas on how to put the customer experience first. Let's get back to the basics.
1. Design (and Redesign) with Customers in Mind
Not all brands keep the end user in mind when designing a site, social pages or app experiences. As consumers—and people—we all appreciate simple utility with a little fun sprinkled in. Having an easily navigable user interface is critical. Brands should think through what features will make for a positive consumer journey and devise ways to make the experience as frictionless—and even wow-worthy—as possible. Think about the last time you interacted with a clunky digital interface or couldn't find what you were looking for in mere seconds. Bet you didn't try again (unless you had to for some reason).
An essential part of building a human-centric, intuitive experience is utilizing A/B and usability testing. Simply ask people what they think. We can always make assumptions on what people want based on best practices, but insights on actual behavior and preferences will allow you to pivot and create the most successful experience. It's always good to hear the positives, but the unfavorable feedback will give you even more opportunities to optimize your marketing.
2. Personalization at Scale
Do you use your data? Use it and the technology at hand to make your digital interactions more human. Take chatbots. It may be ironic that using bots can actually provide a more personalized experience, but tailoring correspondence to individual consumers, as North Face does, can prove much more thoughtful than forcing someone to wait for a live customer representative. Chatbots can add several layers of personalization, beyond just engaging in conversation with the customer. In fact, when built accordingly, they can tap into a customer's purchase history and help you learn more with every interaction, which allows for smarter and more relevant service over time.
3. Listening Skills
We learn more when we listen. Brands should make sure they're not just blasting out one-way messaging. Active listening on social channels enables real-time responses, and helps address people's comments and concerns quickly. For example, Elon Musk recently fielded a customer complaint on Twitter, and turned an idea into reality in six days! That may be an extreme case, but the point is for brands to learn about their consumers at the same time they're listening to them. Pick the most common friction points and use digital tactics to proactively fix issues and earn trust with your consumers. Log what people are posting about most often and gather reports from customer service centers and brick-and-mortar locations.
Keep in mind sometimes it's the small things that make all the difference. Take my recent travel experience, for example. The airline's idea to develop a messaging strategy to proactively alert consumers about their baggage status is likely the result of outstanding listening skills and a strategy focused on humanizing marketing. After all, don't we all have that moment of anxiety wondering if our bag is going to show up on the turn-style? This not only delights customers, but most likely reduces the amount of baggage complaints on social and beyond.
It's more important than ever to think about the human side of marketing. As a consumer, think of the ways you appreciate being engaged. What are other brands doing that have delighted you? As a brand executive, can you incorporate similar tactics into your own marketing plan? With the sheer amount of channels, platforms and general digital chaos, always try thinking about people empathetically, emotionally, and creatively when it comes to outreach. Though sustaining and scaling humanity and personalization can sometimes be a challenge, the resulting consumer loyalty certainly pays off in the long run.
Jen Gray is senior vice president of marketing and creative services for HelloWorld.
Related articles:
Neiman Marcus Starts a New Journey to Humanize Marketing
The Third Wave of Digital Marketing: Embracing the Human Element
4 Ways Social Positions Brands as Destinations for Millennials