4 Ways Social Positions Brands as Destinations for Millennials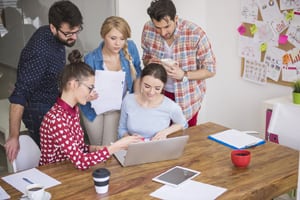 It's no secret: Millennials are on the rise. Soon, the coveted demographic's spending power will overtake other generations, including the amount they spend on travel.
If there's one thing Millennials love, it's the pursuit of experiences, and nothing delivers quite like exploring a new destination. When planning trips, Millennials rely on social media to guide their itineraries. They're loyal to local businesses at home, and that doesn't change when they're on the road — social media is an invaluable tool for uncovering unique sights, restaurants and more.
But marketers must harness social media's power wisely to appeal to the coveted demographic. For instance, half of Millennials need to know a brand's purpose in order to relate to it enough to become customers, and nearly 80% prefer to spend their money on experiences over things.
Social Media's Impact on Brand Awareness
Maintaining an active social media presence is a key component in increasing brand awareness and attracting Millennials: Nearly 90% of Millennials are on social networks, 63% stay updated on branded social accounts, and 46% rely on social media information when making a purchase.
The real power of social media lies in its ability to allow small and local businesses to cultivate awareness among a global audience and compete with major chains. Manhattan's Black Tap, for example, built its reputation as a New York City tourist destination after chef Joe Isidori's Instagram photo of the restaurant's $15 layered, cookie-filled milkshake went viral.
Any small business can replicate Isidori's success (though probably not the calorie count). It just takes a strategic approach to social media and a focus on what unique experiences your brand serves up to visitors and locals. It also doesn't hurt to brush up on your Instagram photo skills.
Creating the Perfect Destination
When people travel, it's not just the airlines and hotels that make money. Restaurants, bars, shops, and other local businesses stand to gain, too. Whether you're in a major city like New York or Los Angeles or a smaller destination, you have something unique to offer Millennial travelers. Once you figure this out, elevate your social media presence by focusing on four key areas.
Be Genuine
The more genuine your social media presence, the bigger your audience will grow. To forge authentic connections with customers on social media, it takes transparency, consistency, and honesty. Be sure to infuse personality into your social media accounts and avoid overly promotional posts. Share memes, articles, videos, and photos that align with your brand and that your target audience might find interesting.
Remain Positive
Consumers rely more than ever on online reviews to make a decision, so keep the vibe positive and encourage reviews. People are more likely to trust recommendations from friends, and social media amplifies the word-of-mouth effect. When your brand engages with customers on social media, don't forget that you're also potentially reaching their friends and followers.
Get Personal
To become a trusted, beloved brand, you can't pump out canned responses or automated links. Millennials especially are looking for an authentic connection, so be sure to keep it human, interesting, and personal. Encourage interaction by asking followers to post photos illustrating their experiences with your brand or letting them voice their opinions on a new dish or an event theme.
Expect New Technology
Social media isn't going anywhere anytime soon, but you'll still want to keep an eye on the horizon for new tech advances. Today it's social media, yesterday it was chat rooms, and tomorrow it might be chatbots and voice assistants. Although LinkedIn, Twitter, Facebook, and Instagram may not be major players in 10 years, what's not likely to change is the appeal of gathering online to voice our opinions and share information.
Smart, wearable, and automated technology is already changing the way the internet works, and as the Internet of Things becomes more prolific, search engines will be bypassed by gadgets like the Amazon Dash Button. Keeping up with the ways younger consumers use amazing new technology to connect with one another is key to creating and maintaining a brand presence on large, untapped platforms.
If you successfully represent your brand in these public forums as a reputable, personable resource, it won't be long before young people start dreaming of visiting. And when they do visit, be sure to provide a memorable experience worth coming back for. That's how you succeed in today's market.
Tony Tie is the senior search marketer at Expedia Canada.
Also By Tony Tie:
4 Lessons From Marvel's Movie Successes (And DC's Shortcomings)
Related Articles:
Engaging Millennials With Agile Digital Ecosystems
Communicating With Millennials—Why Messaging Apps Matter