Neiman Marcus Starts a New Journey to Humanize Marketing
There's a lot of talk about how to humanize marketing. Companies are really trying to understand the people they are marketing to, and then applying strategies, creative and messaging around those insights to better relate to humans—and not just treat them as prospects and customers.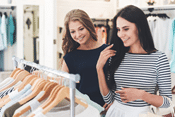 The enormous growth of storytelling as a marketing tool is just one example. Marketers are using real people whose stories are shared through content marketing. Last year, Great Wolf Lodge, the chain of 14 indoor waterpark resorts, created a series of documentary videos featuring the triumphs and challenges of four real families. Some were divorced. Some were deployed in the military. Others struggled with cancer. The films explored those challenges before the families took a trip to Great Wolf Lodge, where the backdrop of the park plays the branding role. It's about the human emotional connection, not selling.
In the retail world, there is a growing movement to humanize marketing.
Neiman Marcus is adding a human touch to its mountains of customer data. The luxury retailer is looking to its sales associates, those closest to its shoppers, to gather human data: observations about how the customer shops, what they say and and their preferences. Those insights will be translated to the data piece to deliver a more human marketing experience for its shoppers.
To make it happen, Neiman Marcus sales associates will have smart devices to make on the spot relevant recommendations. Read the article from GEOMarketing …
Related articles:
IBM & Apple Apps Give Retail Associates Access to Customer Data
How to Unleash the Power of Storytelling in Marketing