Moët Goes High-Tech and its Marketing Director Weighs In
Over the holidays, Moët Hennessy USA popped the cork to toast the launch of a series of digital campaigns that put a modern spin on a classic French champagne brand. A two-player Snapchat game, a crowd-sourced Instagram experience and voice-activated content were all in the mix to reach a younger generation of imbibers.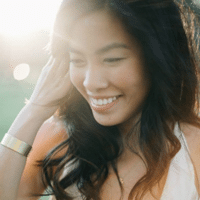 Moët & Chandon's marketing director and head of U.S. consumer engagement, Christine Ngo, was behind the strategy to implement this new form of advertising for the holidays. She talks with CM about the significance of consumer-driven advertising and crowd-sourcing content, and how this new form of innovation first came together.
CHIEF MARKETER: What criteria do you use to determine which social channels to use?
CHRISTINE NGO: Social media is a canvas for storytelling, so we look at both what story we want to tell and where our target audiences spend the majority of their time online to determine which social media channels to use.
CM: Does the campaign idea come first or the social platform?
CN: The idea to empower our fans to co-create content with us came first. When thinking about where to execute this program, we felt that Instagram's new polling features on Stories would be the perfect fit.
CM: How has the demographic you are targeting changed?
CN: Our target demographic is older Millennials who use social media to express themselves and communicate with their friends. Although our target spends a significant portion of their time online, we don't believe in real time—and sometimes invasive—marketing, we believe in right time marketing.
CM: Why did Moët choose to implement this new form of advertising for the holidays?
CN: This holiday season, we partnered with 20th Century Fox's The Greatest Showman to empower fans to "Be The Greatest Entertainer," inspired by the grandeur of the film and Moët's storied history in entertaining. We felt like the best way to empower our fans was to hand them the keys and have them actively co-create entertaining tips with us. The holiday season is always one of the most saturated periods for advertising—we knew we had to go beyond static content.
CM: What is the significance of consumer-driven advertising and crowd-sourcing content?
CN: Millennial consumers love to have a voice. Crowd-sourcing content gives them this voice and involves them throughout the creative process with our brand, directly.
CM: How much content did you create for the Instagram experience?
CN: We created two Instagram stories for the crowd-sourced experience to help consumers be the greatest entertainers over the holiday season. One of these stories was live on Dec. 4 and featured content surrounding a cocktail. One also went live toward the end of December surrounding New Years Eve. Each story has five to six video segments and each segment features a poll question for consumers to answer directly.
CM: How did you market the game and crowd-sourced experience?
CN: We co-marketed the crowd-sourced experience with Tasting Table alongside entertaining expert Athena Calderone and mixologist Elliott Clark. Moët was also excited to announce their partnership with The Greatest Showman. The film will showcase vintage bottles of Moët & Chandon champagne throughout the movie, highlighting Moët alongside P.T. Barnum. Our collaboration with Tasting Table helped our consumers be the greatest entertainers this holiday season. Each week we crowdsourced the content to then create the final content pieces.
CM: In general, is social media a more important part of the marketing mix at Moët?
CN: Yes, as social media is a core part of our target's lives and is a rich canvas for storytelling.
CM: Are you placing less focus/dollars on other areas of marketing to focus more on social/digital?
CN: Not always, as we believe in integrated marketing. We look at all marketing platforms to determine how to best tell the Moët story. We also don't believe in amplifying every platform or only using one.
CM: How many Snapchat and Instagram followers does Moët have and how did you build those audiences?
CN: Moët has 100,000 US Instagram followers. We do not have a Snapchat account. We built our Instagram audience organically, primarily through partnerships with influencers, digital publishers, experiential marketing and always-on content.
Related article: