Moët Uncorks Decidedly Modern Holiday Campaigns
Moët Hennessy USA has popped the cork this holiday season on its digital and artificial intelligence work with a ground-breaking Snapchat game, a crowd-sourced Instagram experience and voice-activated content.
Moët & Chandon unleashed a holiday Snapchat game, which puts a modern spin on a classic French champagne brand.
The two-player interactive game "Moët & Chandon Tower Toss" highlights the French House for both inventing, and having created the world's largest, "Champagne Tower."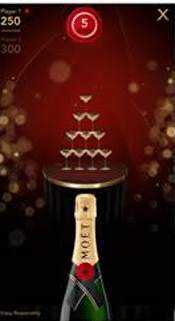 Users compete to be "The Greatest Entertainer" by tapping the screen to shoot a champagne cork at a multi-tier Moët Champagne Tower positioned at the end of a table.
Points are awarded for precision, and the user has 10 seconds to aim and toss as many corks as they can, trying to land it in the coveted single top-level champagne glass. Each tier varies in points earned. After the player's 10 seconds are up, the second player takes a turn. Bottles pop and champagne spritzes when a cork lands in the top level offering a dynamic experience.
Players can share their high-scores at the end of the game and unlock an exclusive geofilter at its completion to share with their friends and family on Snapchat, further marketing the game.
This launch marks the first two-player Snapchat game, Moët says.
The Instagram Experience
An interactive Instagram experience allows users to decide what content will show up on the brand's social feeds. By leveraging Instagram's new polls feature, holiday content will be crowd sourced. In partnership with Tasting Table, the winning ingredients selected to curate a custom Moët cocktail and activities chosen to throw the ultimate holiday party will be featured in a creative video on Moët, Tasting Table, and collaborating influencers' social channels.
As for users of Amazon's Alexa, consumers can learn about champagne and create their own experiences at home through a partnership with creative technology agency rehab. "Bottles and Bubbles" leverages Alexa's voice technology for users to engage with six areas of conversational and educational content, like learning about champagne basics and info about Moët Hennessy brands, as well as champagne pairings, hostess tips and playlists.
Related articles: