How Redbox's Social Strategy Turned the Conversation to its Favor
A regular scene in today's multi-screen culture finds young people sitting around together, each on his or her own screen, lost in their own worlds of mindless consumption.
Redbox wanted to change that. It is on a mission to bring back the joys of watching movies together with friends and family.
"Redbox has an insane amount of awareness, everybody knows it, but consideration was very low," says Carrie Kerpen CEO at Likeable Media. "People don't think of Redbox when they're choosing an entertainment option. If they're looking for a movie they'll go to Netflix or Itunes or Apple—the big players. We wanted to figure out a way to overcome that."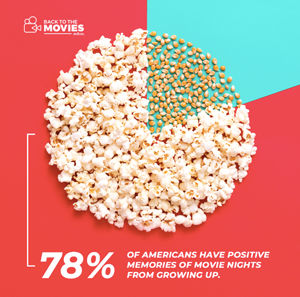 Enter "Back to the Movies," a campaign that launched last summer with vast reach across the social sphere to drive home the message of movie night with friends and family. The campaign changed the story line from specifically about movie titles to the sentiment, romanticism, personal connection and joys of watching films together with friends and family.
"Our goal is to encourage America to ditch digital distractions and enjoy more movie nights that bring us together,"says Ash ElDifrawi is the chief marketing and customer experience officer at Redbox.
"Redbox adopted it as overall strategy for the brand," Kerpen adds. "Everything is funneled through that mentality. Let's get back to what matters and make it a memorable occasion."
A mix of always-on content includes video, short-form copy, imagery, gifs, memes, and games, all laced with interactive elements to engage users and optimized for each specific network—Instagram, Facebook, Twitter and some on IGTV. Redbox's resources and studio partners provide title-related assets like imagery of famous actors that boosts response.
"There's a lot of movement," she says. "In order to create content that resonates in social you have to have a lot of movement with your stories
---
You May Also Enjoy:
In this special report, we profile six brands and the CMOs who tapped into the digital and social sphere to create visual spectacles, change conversations, recharge aging brands and engage millions of new customers.
---
As an example, last October an Instagram Story took advantage of the "screenshot and tag" activity native to the platform to encourage users to build their own Mamma Mia parties. The post reminded users that both the original Mamma Mia film and sequel were available on Redbox On Demand.
"In the past, we've been very focused on our functional, value-driven benefits – new release movies at a great price. The real value of Redbox is our ability to elevate the entire Movie Night experience—gathering friends for an evening of food, fun, togetherness and a film that will connect us," ElDifrawi says.
Another campaign targeted users sick of scrolling—and scrolling—through Netflix to find a movie they wanted to watch. Using Facebook Canvas, a series of quiz-like questions led to suggested titles, all available on Redbox On Demand. The campaign ran for several weeks in December, featuring relevant new release titles combined with holiday classics. Users dwelled on the ad and clicked through the various options to title pages on the Redbox website.
Also over the holiday a series of "on the street" interviews were filmed at popular New York City locations like Rockefeller Plaza, Macys and The Plaza. Five videos were produced that ranged from answers to title-specific trivia questions around holiday favorites like Elf, The Polar Express and National Lampoon's Christmas Vacation to more evergreen holiday movie traditions. The videos proved to be top performers running primarily on Facebook.
Last month, the Memories of Movie Nights engagement post on Facebook and Twitter asked users to share their favorite memories from movie nights growing up. The concept leveraged data from Redbox's Omnibus Survey and leaned into a more nostalgic angle to convince users to make new movie night memories. In the comments, users shared stories of watching movies with parents and family or specific movies they remember watching. Like this post from Marlene Greenburg: "No cell phones, no people talking throughout the movie, no children jabbering during movies clearly not meant for children, ability to watch movie again and again."
"Social media has been critical to our launch as we've used the channel as a sounding board for the strategy and messaging. The feedback has been overwhelmingly positive, further validating the mission to raise awareness about the power of Movie Nights to bring us together," ElDifrawi says. "I am truly passionate about this issue as a former clinical psychologist. In the age of device addiction, digital isolation is a growing challenge that threatens our well-being and relationships. I believe in the power of movies to connect with one another again."
In all of the content, end cards or text overlays provide subtle Redbox branding.
Videos that focused on sentiment performed the best.
"People really are hungry to reconnect and reconnect through spending time together. We found that message worked," Kerpen says.
Likeable also found that negative messages don't work, like 'hey put down you're phone.'
"You can't be preachy. You can't be negative," she says. "It's all about not being what not to do, but more of the what to do."