The good, the bad, and then there's Pepsi and Kendall Jenner
It took just about 24 hours to implode.
You need go no farther than Twitter to find out why a new Pepsi ad featuring Kendall Jenner that debuted this week has already been yanked off all social channels, broadcast and digital channels.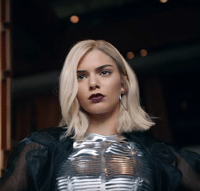 The spot shows Jenner working a modeling shot when she notices a protest outside. She rips the blonde wig from her head, wipes the lipstick from her mouth, and races out to join the throngs. Once in the mix, she flirts with a young man before walking up to a line of police officers and handing one a can of Pepsi. The crowd cheers and apparently all the worlds problems are solved.
The comments were swift and rough like this one from @Uncoachable. "I'm sure @pepsi already has an apology drafted. These companies are not THAT tone deaf. They're using controversy to their advantage" @ByRyanBrooks wrote: "@CocaCola watching this @Pepsi ad go up in flames."
Pepsi said the idea behind the ad was "to truly reflect today's generation and what living for now looks like. It added that the short film, " 'Jump In,' depicts these moments and … captures the spirit and actions of those people that jump in to every moment. It features multiple lives, stories and emotional connections that show passion, joy, unbound and uninhibited moments. No matter the occasion, big or small, these are the moments that make us feel alive."
The idea behind the ad was reportedly to reach politically active GenZ and Millennials, but by most accounts it backfired by angering the audience it was courting. Young people are already distrustful of advertising and many of the comments around "Jump In" suggested that advertisers were taking advantage of a divisive and uncomfortable political climate. Some suggested that the ad was nothing more than a disingenuous effort to appear as if the brand really cared, and that if it did, it would strike a different cord—reality. Civil rights advocates said the ad trivialized the street unrest that has played out across the U.S. and played a little to close to images in the Black Lives Matter movement. And many other high-profile people spoke up as well including Martin Luther King's daughter and Madonna.
@GRimmKardashian jumped in with: "-this is the closest we have ever seen a kardashian be to activism and it's a fake protest in a pepsi ad she was paid millions to appear in." @ComfortablySmug posted: "Pepsi should make an ad where Kim Kardashian parachutes into Syria and uses Pepsi to wash kids faces after a chemical weapon attack..
Pepsi announced on Tuesday that Jenner would star in "Jump In" and she tweeted out the first salvo. By Wednesday evening it was issuing apologies to Jenner and consumers at large. Pepsi appears to have no one to blame but itself as it's internal content creation studio created the spot, which was set to be distributed across broadcast and digital channels. Read the article …
Nivea is another brand under fire. It pulled an ad yesterday that was deemed racist. The ads showed a woman wearing a white robe with her  long dark hair cascading down the back. The slogan, "White is purity," triggered a social media backlash.
Watch "Jump In":

Related articles:
Less About Sex, More About Burgers—Did Carl's Jr. and Hardee's Get it Right?
The Muslim Marketing Movement Marches Forward
PepsiCo, Walmart, Starbucks Join YouTube Advertising Boycott