Auntie Anne's Launches Pretzel-Inspired Clothing Line
Auntie Anne's is celebrating 30 years of twisting gooey dough into chewy, delicious pretzels. As part of that celebration the brand has launched "For the Love of Pretzels," a pretzel-inspired collection of clothing and accessories.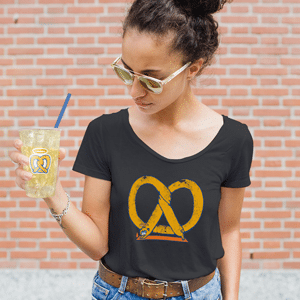 The line includes men's, women's and children's clothing and shoes, as well as shower and bath products, water bottles, phone cases and mugs. Profits from the sales will go to Alex's Lemonade Stand Foundation, which supports research on childhood cancers.
The designs include cheeky names like Twisted Day and Pretzel Heaven.
The launch also coincides with National Pretzel Day today. Pretzel franchises, including Auntie Anne's are offering deals. Auntie Anne's My Pretzel Perks loyalty members find an offer on their app for a free classic pretzel when they purchase any pretzel Thursday through Sunday. Want to throw your own Pretzel Day party? The brand, based in Lancaster, PA, is also offering  $15 off a $75 catering order through Thursday using the promo code NATIONALPRETZELDAY.
Related articles: