The Life of Carnival Cruise Lines CMO Kathy Mayor
Carnival Cruise Lines CMO Kathy Mayor moved a very long way, from Macao to Miami, to take the job. She has quite the impressive background to take on the challenges of marketing the mass-market cruise line with sailings to the Caribbean, Mexico, Europe and Alaska.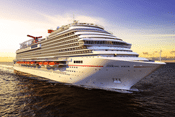 Here, CMO.com talks with Mayor about Carnival's target, its focus on digital and its recent major marketing successes. She talks about the importance of leveraging partnerships like television personality Guy Fieri—even the popular children's story Cat in the Hat—and others. She shares Carnivals three marketing priorities for the coming 18 months and offers one piece of inspiration advice for peers.
The cruise line industry is highly competitive and Carnival has stepped up with a new ship setting sail in 2018 and another that arrived in New York in November with the first on-board IMAX theater and Grammy award winner Carrie Underwood to help kick off the celebrations. Read the article …
Related articles:
Royal Caribbean CMO Jim Berra on Marketing the Mega Cruise Line
Top 10 Marketing Predictions for 2017: CMO.com