Top 10 Marketing Predictions for 2017: CMO.com
The 2017 marketing predictions are coming in—and there are many.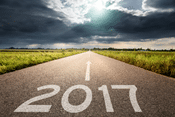 One entity, CMO.com, has rounded up the Top 10 trends it views will keep marketers very busy next year adapting to the vast technological changes and marketing disruptions we experienced this year.  Others include media buying transparency, mobile, digital, ad blocking and virtual reality to name of few.
CMO.com takes us through the impact of the divisive election, the divide between legacy systems and reality, the need to address trust issues—in particular with younger consumers like Millennials—mergers and acquisitions, artificial intelligence, ROI, the treatment of women in marketing and advertising and marketing investments.
You'll hear from professionals at Prudential, Wired, Hulu, eMarketer, SheKnowsMedia, Horizon Media and others who outline the trends and offer solutions for marketers to manage these issues. Read the article …
Related articles:
Jack Morton's Bruce Henderson on 2016 Hits and What's Up for 2017
Octagon CMO Lou Kovacs Talks Sports, Investments & 2017
Top 10 Digital Branding Trends for 2017: Infographic