Millions of Prizes in Starbucks Virtual Games
Starbucks is hoping to draw in new loyalty members—and provide some entertainment and fun for its loyalists—with a summer-long virtual board game.
The "Starbucks Summer Game Boardwalk" is dangling millions of chances to win prizes, enticing consumers to not only join Starbucks Rewards, to believe that they may actually win a prize if they play.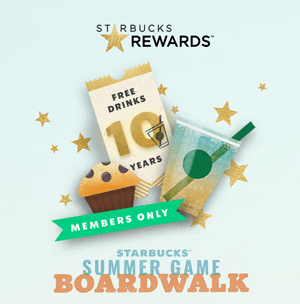 There are millions of instant-win prizes from buy-one-get-one free offers, to coupons for discounts on beverages to Bonus Stars added to the player's loyalty accounts. Dozens of other levels of prizes are also available, including the grand prize—sure to fire up any Starbucks loyalist—free drinks to three players for 10 years.
To play, loyalty members get game plays in one of two ways. They make a purchase using their Starbucks Card or a card registered on the Starbucks mobile app then sign into their accounts to get started. As Starbucks has done in the past, it runs promotions to encourage customers to make purchases later in the afternoon when the desire for a jolt of coffee slows down and this promotion is on exception. Once players sign in they get one play if the purchase was made before 2 PM or two plays if the purchase was made after 2 PM.
---
Other articles you might enjoy:
---
Once a game play is in hand players click or tap the virtual spinner and the action begins. The spinner determines how many spots the player moves on the virtual game board. Spaces give varying directions like: move ahead three or four spaces or spin the virtual spinner again. If the player lands on "Game Space" they are directed to play a game where they get either an instant-win prize or a collect-and-win game piece. Landing on the "Souvenir Space" reveals an animation with the option to select one souvenir to add to the player's collection. The "Go" Space delivers a celebration animation.
The game, administered by HelloWorld, began Aug. 7 and ends Sept. 20. A "mini game" at the site encourages those who may be hesitant to join the rewards program to try a short game for a chance to win free drinks for a month and other prizes. They enter their name and then choose one of five "fish" to see if they've won and are encouraged to join the rewards program and play the boardwalk game.