KFC's New CMO Chats About Reba and the New Campaign
It's official. KFC's new Colonel is a girl! Reba McEntire is the first female—and female celebrity—to play the role of Colonel Sanders. She is helping introduce KFC's new Smoky Mountain BBQ: Extra Crispy chicken and will appear in ad spots that start running this evening on national broadcast stations and on KFC's social media channels.
KFC's new CMO, Andrea Zahumensky, on the job just six weeks, talks Reba and what it took to step in toward the end of a major launch and campaign.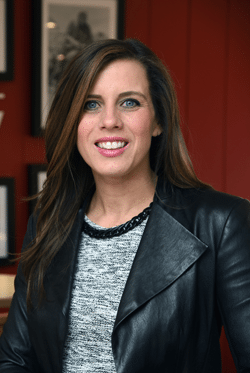 CHIEF MARKETER: Why Reba?
ANDREA ZAHUMENSKY: KFC pairs the right celebrity with the right campaign—and the right menu item—to make it relatable to our fans. When we started looking for the right Colonel Sanders to sell our new Smoky Mountain BBQ, we wanted a country music legend who shares the values of the colonel, a showman through and through, and a lover of fried chicken with plenty of Southern charm to boot. Reba's charismatic personality, connections to the south and country music, and impressive career made her the ideal fit.
CM: Why now to name the first woman colonel?
AZ: Introducing our first female colonel is a natural evolution in the campaign following a strong foundation of rotating colonels. It's exciting for the brand to expand the role to new territories. We've always maintained that anyone who embodies the spirit of the colonel is qualified to play the iconic role.
CM: How will her role be different from the male colonels?
AZ: Reba is our first colonel who sings in commercials, but that was a natural fit since she is a country music superstar?
CM: What was the process like to sign Reba?
AZ: We contacted Reba in late 2017 and signed her on as the new colonel in December 2017. We were excited to learn that she is a fan of KFC. She has been a delight to work with.

CM: Let's get to the new flavor launch. What inspired the new flavor?
AZ: It's southern inspired. This flavor really blends all the flavors across the BBQ belt.
CM: What was the process like to develop the new flavor?
AZ: We test marketed in the summer in locations outside the BBQ belt because this is really about bringing an authentic regional flavor out to the masses. Customers responded very well. One customer said when the test was over and the product was no longer available, that it was "as painful as her first high-school break up." So I think our customers are going to be excited.


CM: In addition to the star power of Reba, how are you marketing the BBQ chicken?
AZ: Some 96 percent of consumers have eaten BBQ in the last year with one-third of those in the last week. This is probably our most broadly appealing flavor that we'll have in restaurants. We really want to make sure that everybody in America learns about it. We will have TV, a full digital campaign that will include social, search, YouTube, as well as radio. So we are really going to be working to get the word out.
CM: What is the most unusual marketing tactic you'll be deploying?
AZ: The ads are quite different than we've seen from KFC in the past. We think Reba really embodies the spirit of the colonel, but also represents our Sweet and Smokey BBQ sauce in a really unique way through her connections to the south and country music that we think customers in America are really going to fall in love with.
CM: Is there a shift in budget between digital and TV?
AZ: Both TV and digital are very important components of our marketing mix. Of course, as consumer habits have changed, so has our media mix, so over time digital has become more and more important for connecting with consumers. This campaign will be along those lines of reaching consumers where they are and where they're interested in learning about fried chicken.
CM: You're brand new in your job? What role did you take on to get this new flavor and campaign to the finish line?
AZ: This is a great and exciting time to be joining KFC. My first week we selected Reba for this new campaign and just two weeks ago we were in LA shooting the new ads. I wasn't here for the development of the flavor and the test market, but really have been working with the team and our agencies to bring the campaign and the flavor to America in a way that they are really going to trust and champion.
CM: What is your vision for your new role?
AZ: Right now, I am focused on doing a lot of listening. I plan to spend the next weeks and months listening and spending as much time as I can with our customers, our restaurant managers and line staff, my team and franchisees, who have incredible depth of history and knowledge. We are all focused on making KFC a brand that customers want to trust and champion. We're going to do that through continuing to bring innovation like our Smokey Mountain BBQ and also finding new and unexpected ways to connect with consumers through our colonel campaign.
CM: Prior to joining KFC, you worked on pampers and baby care for P&G. What learnings can you apply in your new post?
AZ: I have been really fortunate to work on iconic brands, like Pampers and KFC. I really focus on making sure I am really in touch with what our customers want, whether it's baby care products or it's the best fried chicken that you can get. Being in touch and listening to what consumers want and then finding a way to deliver that in a meaningful way that connects with consumers really can apply to both brands.