Interactive Statues—think Naked Biker—Sell Portland to the Masses
The Pacific Northwest can practically sell itself with its majestic mountains, rocky coastlines, microbreweries and coffeehouses.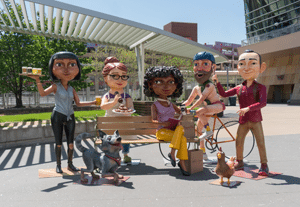 However, those marketing some of the Cascadia states want more. Last spring, Oregon crafted a new commercial that takes viewers on a fanciful Technicolor journey around the state featuring romantic hot air balloon rides, magical gardens and a giant friendly rabbit.
Now, homing in on getting more tourists to Portland, five zany and interactive life-size statues are being placed around the country to show people just what they're missing if they don't book a trip to visit Portland.
Called "The Portlanders," the statues come "with VR-headset-esque viewers built into the backs of their heads to represent the many things that tourists can try, taste, be or do in Portland. In typical Portland fashion, what viewers see inside of each statue is delicious eye candy and may stretch reality, but it's escapist fun and another notch in an already impressive tally of work that encourages people to make their way to the city," Adweek reports.
---
Other articles you might enjoy:
---
The Portlanders include the Naked Biker, The Donut Maker, The Hiker, The Shopper and The Brewer all play on some unique aspect the make Portland the weird and wonderful place that it is.
The animated campaign began back in March. The "Only Slightly Exaggerated" spot was part of a new $5 million marketing campaign and a definite departure from the footage of local landmarks and tourist attractions seen in typical travel campaigns.
Every animated locale is based on a real place or event. Visitors to TravelOregon.com can find links between the images and their inspiration. The giant rabbit in a field of tulips was inspired by the state's many flower festivals and waterfall and wildflower hiking opportunities, while the romantic fairy-lit hot air balloon ride is a nod to sightseeing opportunities in the wine country. A bicycling caterpillar showcases the cycling adventures available across the state, and the elaborate dragon boats are taking part in the annual Portland Dragon Boat Festival.