Anime-Inspired Campaign Makes Oregon Seem Magical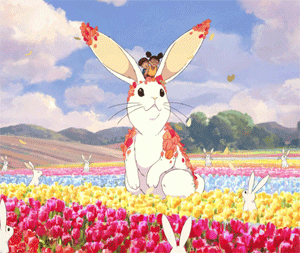 A new animated tourism commercial takes viewers on a fanciful Technicolor journey around the state of Oregon featuring romantic hot air balloon rides, magical gardens and a giant friendly rabbit.
The "Only Slightly Exaggerated" spot, part of a new $5 million marketing campaign, is a definite departure from the footage of local landmarks and tourist attractions seen in typical travel campaigns.
The animation style is clearly heavily influenced by the films of legendary Studio Ghibli director Hayao Miyazaki, the genius behind beloved anime classics such as My Neighbor Totoro, Spirited Away and Kiki's Delivery Service. The 90-minute spot, scored by the Oregon Symphony, takes viewers on adventures across the state.
Every animated locale is based on a real place or event. Visitors to TravelOregon.com can find links between the images and their inspiration. The giant rabbit in a field of tulips was inspired by the state's many flower festivals and waterfall and wildflower hiking opportunities, while the romantic fairy-lit hot air balloon ride is a nod to sightseeing opportunities in the wine country. A bicycling caterpillar showcases the cycling adventures available across the state, and the elaborate dragon boats are taking part in the annual Portland Dragon Boat Festival.
Tourism is big business in the state. Visitors spend $11.3 billion annually in Oregon, and more than 109,000 residents are directly employed by tourism-related ventures.
"The goal of this campaign is to welcome and inspire people to come find happiness by vacationing in Oregon," said Todd Davidson, CEO, Travel Oregon, in a statement. "As more travelers seek health and wellness, alongside memorable and sharable moments, the time is right to showcase the outdoor adventures available in every corner of the state."
The campaign launched Monday in Portland, San Francisco, Seattle and Phoenix. The media buy includes cinema, TV, digital and out of home, and will be extended online throughout the year with new content, GIFs, stills and short animations featuring Oregon's seven tourism regions.
"We thought Oregon deserved better than just another travel ad," said Wieden+Kennedy Art Director Nick Stokes. "So we turned to animation to try and capture its magic. We're very proud of the work, and I'm honored to represent my home state in such a unique way."
You May Also Enjoy:
Wakanda Forever: Black Panther's Lessons for Marketers