The Ingenious New McD's J-Straw
We can only chalk this up to the luck o' the Irish.
McDonald's has a new invention, the J-shaped straw, to enhance the consumption experience of some of its beverages. The straw, yes, shaped like the letter "J," makes sure that drinkers sipping one of its new drinks, the Chocolate Shamrock, gets the liquid in perfect ratio of green mint and chocolate, smoothly layered in a McCafé cup.
The shake is one of four new flavors of its long-favored Shamrock Shake that will need the help of the J-straw to maximize the drinking experience. The new drinks also include layers of flavor that are meant to be precisely mixed in 50-to-50 proportions: Shamrock Chocolate Chip Frappé, Shamrock Mocha and the Shamrock Hot Chocolate.
McDonald's claims it has "changed the world" with the limited-edition straw, designed by a team of aerospace and robotic engineers at JACE and NK Labs to be precise.
While some customers may find the straw a bit bamboozling—it has multiple holes around the curved part—the engineers found the assignment bamboozling as well.
"It was a puzzling assignment but one with an ambitious goal," Seth Newburg, principal engineer and managing partner at NK Labs, says. "From a physics perspective, it's actually quite difficult to deliver a proportional amount of both chocolate and mint flavors with each sip. But that's exactly what we did. It's a marvel of fluid dynamics."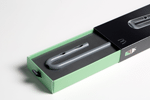 Newburg went on to thank the "Fibonacci series" as a tool to develop the special straw. I looked up Fibonacci series and came up with this definition: a series of numbers in which each number ( Fibonacci number ) is the sum of the two preceding numbers. The simplest is the series 1, 1, 2, 3, 5, 8, etc. This definition did not shed any further light on the development process for me.
McDonald's senior director of menu innovation says the idea came from listening to customers and putting its guests first, even if that meant "re-thinking even the humble straw."
How do customers feel about the J-straw? A surf on Twitter tells that tale. @AndrewJTouhy posted "Oh, just the greatest invention in the history of mankind." This one from @JoeCurry. "Any tips how I might find the STRAW for my Chocolate Shamrock Shake? I see one location for 2/24."
No J-straws yet available near you @JoeCurry? Maybe, with a little luck o' the Irish, they'll get there in time for St. Patrick's Day!
Related articles:
The Whys Behind Abstract Neon La Croix Cans and Other Iconic Packaging Designs
Coke's New Packaging Strategy, Sameness
Oreo Lets People Customize Packaging to Bolster E-Commerce