Stacy's Pita Powerful Packaging Designs
It's Women's History Month and while many brands are participating, one in particular stands out to me.
It's a brand founded in 1997 by a woman, Stacy Madison: Stacy's Pita Chips. Stacy had a passion for making great food and after trying a few different things like social work, she discovered her true passion, making great food.
Stacy opened a roll-up sandwich cart at the corner of Chauncy and Summer Streets in Boston and attracted such a following that people would become impatient waiting in long lines and walk away. The solution? She began baking flavored pita chips out of the extra bread she had and offered the chips free to customers as an incentive to stay in line. The rest, as they say, is history.
Today, Stacy's Pita Chips is owned by Frito-Lay North America, the $14 billion convenient foods business unit of PepsiCo. In celebration of Women's History Month, the marketing department created package designs modeled after the real posters and signs women have used from pivotal moments throughout history to make their voices heard, like this one:
And this one: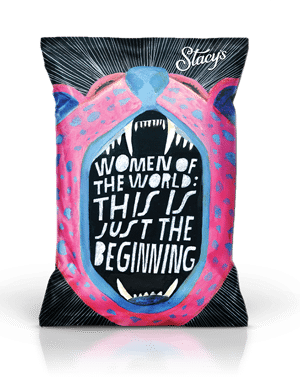 And this one: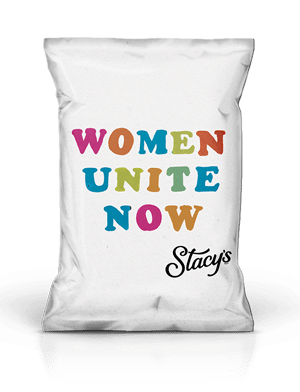 The bags are available for a limited time to consumers who register at StacysStandsWithYou.com. Each registration triggers a $10 donation from the Stacy's brand to Step Up, an organization that supports work mentoring for young women. Each bag also includes a Snapchat Snapcode that, when scanned, shows people how they too can get involved in Step Up and others women's causes.
A contest also supports the campaign for people to submit their own inspirational signs and poster artwork honoring women who fight for their beliefs. A small number of those designs will be selected to be featured on bags released nationally at the end of the month.
"Stacy's was founded by a woman with incredible talent, passion, and determination," says Jennifer Saenz, chief marketing officer, Frito-Lay North America. "She is just one of the millions of women who have paved the way toward the ultimate goal of equality. These bags and our partnership with Step Up are our way to stand with women everywhere."
As I went to register today to spark a donation and get a bag of Stacy's Pita Chips, I found the message that there had been an "unprecedented response and all bags have been claimed." But all was not lost, the message also says that new bags and new designs will be available later this month. So I'll wait a little longer to celebrate the package design and the woman behind the brand for her entrepreneurship, determination and her inspiration as a role model. And, of course, what's inside!
Related articles:
In a Shift, AB InBev Pitches Lime-A-Rita Exclusively to Women
Brawny Man, Cast Off in Favor of Strong Women
The Whys Behind Abstract Neon La Croix Cans and Other Iconic Packaging Designs