Brawny Man, Cast Off in Favor of Strong Women
To help mark Women's History Month, Brawny's #StrengthHasNoGender campaign will again spotlight four "strong and resilient" women as the centerpiece of an integrated campaign.
This is the second year the paper towel brand has run the campaign. Each woman is featured in a video, speaking about their achievements in the traditionally male-dominated professions of science, technology, engineering and math (STEM). The films are posted at Brawny.com and deliver a strong narrative that women can overcome personal and professional obstacles no matter what barriers they face to reach their goals and dreams.
To update the campaign this year, for the first time ever the iconic Brawny Man has been cast off packaging and replaced with the four women. Walmart is selling the packages during March.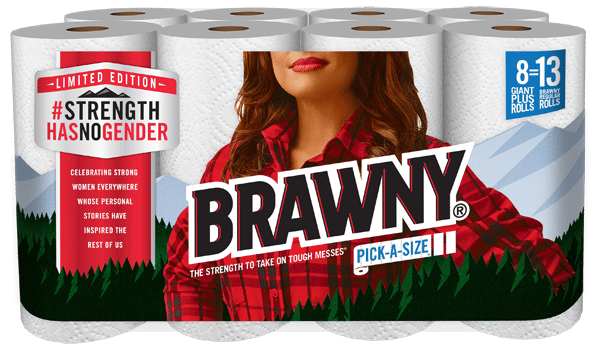 As part of the initiative, Brawny is contributing $75,000 to Girls Inc. to help develop girls' enthusiasm for STEM as part of its Operation SMART programming.
"There are women and girls everywhere who exhibit strength and resilience in their lives, and that's the inspiration behind the Brawny #StrengthHasNoGender campaign," says Frances Morgan, senior brand manager at Georgia-Pacific. "STEM is among many areas of society that are underrepresented by females, and we felt this would be a powerful platform to address this issue."
A digital anthem video, titled "Breaking Barriers," highlights the journey and accomplishments of three of the most respected women
• Harriet Tubman An American abolitionist, humanitarian, and an armed scout and spy for the United States Army during the American Civil War.
• Amelia Earhart The daring aviation pioneer and author who was the first female aviator to fly solo across the Atlantic Ocean.
• Serena Williams A professional tennis player, ranked number one in the world on seven occasions by The Women's Tennis Association
The #StrengthHasNoGender initiative is an extension of Brawny's Stay Giant campaign, which encourages and honors Americans who face adversity with strength and resilience, the company says.
Related articles:
Are you into retail? Enter your campaign into the 2017 PRO Awards by March 17 (late deadline March 31).
The Whys Behind Abstract Neon La Croix Cans and Other Iconic Packaging Designs