30-Days of Prizes is Big Win for Dremel
For Dremel, the American brand of power tools, hosting a 30-day promotion calendar packed with prizes is a way to build consumer engagement on a daily basis and have those consumers share content across their social networks.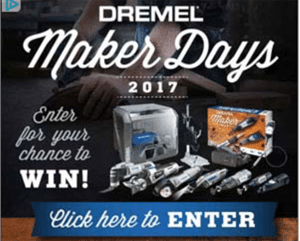 The tent-pole promotion, called "Dremel Maker Days," offers daily sweepstakes and product offers for Makers, or those who are inspired to create using their hands and tools, and interested in upgrading their toolbox, craft room or workspace.
"We wanted something that provided continuous engagement," says Marie Verceles, brand manager, digital marketing at parent Bosch. "If it's just one day it puts all our efforts into that one day. This allows people excitement on a daily basis and to share the program across their social networks for a longer period of time."
To participate, people complete a registration form for a chance to win one of the daily prizes on DremelMakerDays.com. Tool offers include the new Dremel 4300, Dremel Multi-Max, Dremel Maker Kit and Hatch Project Kit among many others. In addition to daily giveaways and deals, there are two grand prizes: both tool packages valued at $3,000 that include more than 10 tools from Dremel and RotoZip. The promotion ends Sept 4.
The sweeps prizes are revealed each day on the website and on the Dremel brand's social media channels, to encourage consumers to check back often. So far, Dremel has seen "significant submissions" compared its first Dremel Maker Days last year.
"That's really helped the program grow," Verceles says. "They reengage over the month and share their projects. There's a real viral component to it."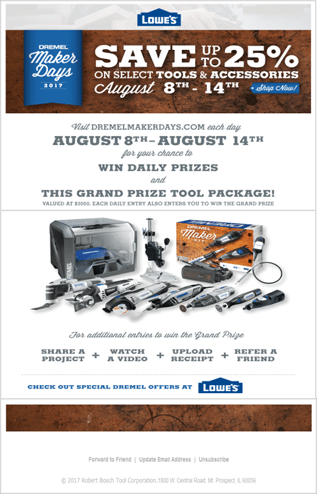 As an added incentive, players can earn bonus entries for an increased chance of winning the grand prize in four ways:
1. Watching a Dremel video
2. Uploading a receipt of a Dremel purchase
3. Uploading a photo of one of their own projects
4. Referring friends to sign up for Maker Days through Facebook or Twitter.
Verceles says there is a focus on "building social community and having one-on-one engagement with us as a brand" with the UGC an important part of that strategy.
Five retail partners also play an important role— Ace, Lowes, Menards, Amazon and Home Depot. The retailers provide cross-promotional deals tied to Dremel Maker Days using similar messaging and color schemes to communicate a consistent voice.
For example, for one week in August, Lowes ran a special on its website to save up to 25% on select Dremel tools and accessories along with promotions and links to Dremel Maker Days. Amazon is currently running a month-long 30% off Dremel products co-promotion.
Capturing all that consumer data has helped Dremel remarket to participants and build engagement through tailored marketing plans based on interest points teased from the promotion.
"We really want a platform to applaud our makers and the work that they do with our tools," she says.
Related articles:
Six Ways to Improve your Sweepstakes Marketing
A Primer in Sweepstakes Marketing