Waze App Let's Wazers Choose Disney Characters from Cars 3
Ever dream of driving one of those vehicles in the Cars movie franchise? Perhaps Lightning McQueen or Jackson Storm?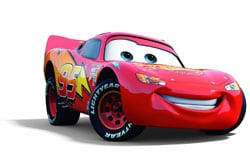 This might be as close as you can get. In a partnership between Waze, the real-time community-based traffic and navigation app, and Disney, Wazers can change their cars on the Waze app to a branded car from the upcoming Disney Pixar's Cars 3, set for release June 16. In addition, Wazers will also be able to get their directional navigations voiced by Lightning McQueen or Jackson Storm, the Cars 3 characters voiced by Owen Wilson and Armie Hammer.
Kids will like this partnership too as the Waze app allows passengers to get in on the fun by switching between pro racer McQueen and the tech-savvy driver Storm—taking the movie's rivalry out on real roads.
The two entities are calling the partnership the first of its kind. In-app prompts will begin appearing soon.
Waze continues to look for partnerships, like Disney, that make sense for its users.
In March, Dunkin' Donuts expanded its marketing partnership with Waze to become the first brand to embrace Waze's new "Order Ahead" feature on the Waze app. The feature lets customers submit their order through the app and then pick it up without waiting in line. The key is, you have to be a DD Perks Rewards member and requires the updated version of their app.
Dunkin' began its partnership with Waze in 2012 when all of its locations were mapped through the app. Read the article …
Watch the teaser trailer for Cars 3:
Related articles:
Need a Cup of Dunkin' Coffee? Order Ahead with Waze
McDonald's to Track Eating Habits