Need a Cup of Dunkin' Coffee? Order Ahead with Waze
You know the drill. You really, really want to stop quick for that much-needed cup of steaming Joe on your way to work but just can't handle the long line.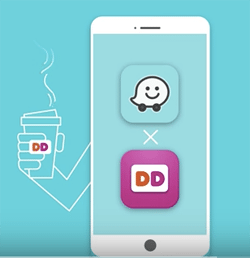 This week, Waze, the community-based traffic and navigation app, and its partner Dunkin' Donuts offered a solution. Dunkin' is expanding its marketing partnership with Waze to become the first brand to embrace Waze's new "Order Ahead" feature. The feature lets customers submit their order through the app and then pick it up without waiting in line. The key is you have to be a DD Perks Rewards member and requires the updated version of their app.
Dunkin' began its partnership with Waze in 2012 when all of its locations were mapped through the app.
Marketers like Dunkin' are continually working to enhance and improve app functionality to make users lives easier and to build loyalty. Consumers spend 89% of their mobile time on apps with the other 11% spent on websites. And 26% of consumers start mobile research with a branded app.
For another brand, Marriott, mobile devices account for a striking 60% of its traffic and its Marriott Mobile App has opened doors to its hotels around the globe. Not only can users book rooms on their handhelds, they can also check in before they arrive, get an alert when their room is ready, order room service and other functions. For the brand, the app allows it to connect with its loyal customers on a more personal level, not just during a stay, but before and after as well to improve the customer experience and build loyalty.
Dunkin' posted this YouTube video to shows loyalty members how to order ahead on Waze.
Related articles:
Marriott VP Digital Marketing on Digital, Apps and Guests
Marriott's Mobile Strategy Rings up $1.7 Billion Bookings Annually