How a CMO can Rise to CEO
Ambitious CMOs who have even greater visions for their careers have unprecedented opportunities. More CEO spots are being filled by former marketing heads than ever, and we anticipate that trend to grow in the years to come. Marketing executives with their eyes on the top seat should consider an interim career step that puts them on the fast track to a CEO title.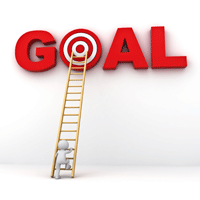 A clearer path between chief marketer and CEO has materialized in recent years. In smaller enterprises that path from CMO to CEO is a direct one. But in larger firms like Fortune 500 companies, you will typically need to go through an interim step; the Chief Commercial Officer role.
Though this is not strictly a brand new title, the Chief Commercial Officer (sometimes called a Chief Business Officer) is gaining steam in terms of popularity across industries. The development and maturation of this executive role gives CMOs the perfect career path from head-of-marketing to head-of-company.
The CMO Springboard: Chief Commercial Officer
A CCO is the ultimate leader of all the company's consumer-facing operations: sales, marketing, brand, product, customer service, etc. Because all of these things are so interdependent now, having a single vision and leader guiding them all in alignment with a cohesive strategy allows for a more integrated approach to growing the business.
Not every company operates on a scale that calls for a CCO, but you can find one at many top brands including The Coca-Cola Co., Molson Coors Brewing Co., UPS, GE, Marriott International and Dell.
Why the CMO is Perfectly Poised for CEO Success
Consider the words of Peter Drucker, the father of business consulting:
"Because the purpose of business is to create a customer, the business enterprise has two–and only two–basic functions: marketing and innovation. Marketing and innovation produce results; all the rest are costs. Marketing is the distinguishing, unique function of the business."
While Drucker said this a long time ago, it is now truer than ever. This revolution is leading to more companies moving CMO's to the CEO chair and an increased use of Chief Commercial Officers—all of which is good news to for top marketing executives.
The fundamental nature of doing business, both in B2B and B2C terms, is evolving rapidly from older models. Instead of being operations-oriented or finance-driven, businesses (the ones that are competing and winning, that is) are shifting to a customer-centric configuration in what many top marketers are calling "The Year of the Customer."
Putting focus on the consumer requires the buy-in of the entire organization. When it comes to serving customer, you're only as strong as your weakest link. Some 90% of modern consumers will abandon your brand after a bad experience—meaning a single failure among sales experience, product quality, advertising messaging, brand engagement or any of a thousand other things can drag down the success of the entire organization. On the other hand, a consumer that is "totally satisfied" by a brand can be expected to contribute 2.6 times as much revenue as a "somewhat satisfied" customer and 14 times more than a dissatisfied customer.
This kind of coordination and wholesale shift in priority can only be driven by a chief executive. But a CEO who was previously a CFO or operations head will likely stick with what they know in leading a company and potentially miss out on steering the business toward a customer-first orientation. Their experience and skillsets are too focused on making things run smoothly internally.
On the other hand, a carefully recruited elite CMO who is on top of their game is well equipped with the strategic and technological understanding to properly serve today's consumer. Putting the customer before all else has been the modus operandi of high-performing marketing departments for over a decade now, and the most successful marketing executives during this time are veterans at orienting toward the customer, making an experienced marketer the top choice when looking for your next CEO.
Making it to the Intermediary Step
Most companies hiring a CCO will do it through a top executive search agency, so if you're a CMO hoping to be recruited for the position it's important to network extensively and establish a strong personal brand supported by a reputation for driving real business results.
If a CCO role doesn't exist in your organization already, you can make the case for the position and then try to fill it yourself. This can be a very tough sell—in addition to creating a new executive spot, your business will have to fundamentally reorganize to adapt to a new commercial structure. Your sales pitch will have to be convincing and data-driven, but it can work if you can navigate the internal politics and prove that a chief commercial officer is what your company needs to grow.
Finally, if you have your eyes on a CCO seat it's important to actually be qualified for it. The CMO might be the most naturally qualified executive to move up to this kind of position, but in interviewing for such a role you will need to prove expertise in other areas in addition to marketing.
Bob Van Rossum is president at executive search firm MarketPro. Connect with Bob on LinkedIn at Bob@marketproinc.com or read more from him on the MarketPro blog.
Ram Kirshnan, Frito-Lay CMO on Tech, Data and Chip Flavors