Driving For the Green: A Q&A With TaylorMade Golf's Bob Maggiore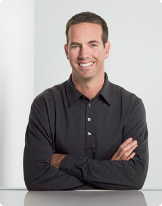 Golf equipment marketing once followed a predictable, stately path. A company would unveil new product at a trade show, get it into the hands of some tour stars, and let their endorsements sell the item gradually over a season or two. The web and mass media have turbocharged that cycle. Chief Marketer talked with Bob Maggiore, newly-named CMO for the Adidas Group's TaylorMade Golf subsidiary, about the challenges and benefits of keeping customers buzzing about your products year-round.
CM: You've been in marketing at TaylorMade for 13 years now. What marketing principles remain the same, and what has changed?
Maggiore: One that remains is the notion of building our marketing around hot product launches. Our drivers are used by more pro golfers than any other brand. The PGA Tour influences the better regional players, who then influence the local players, who in turn influence the masses. The buzz starts there. The big difference is the speed at which those launches happen now. Back then, we were still on an 18-month to two-year development cycle. Today it's closer to half a year or nine months. The speed of our [marketing] behavior is crazy different today.
CM: If marketing starts at the pro-endorsement level, what's the role of events and short-term promotions?
Maggiore: Events are more important today than they were a decade ago. We refer to them as "culture bombs." The ability to make people pause even for a bit and to break out of that "time to release the new stuff" rhythm is a significant benefit. Transforming the foul pole in San Diego's PETCO Park [baseball stadium] last April into an 80-foot TaylorMade R11 driver created a phenomenal amount of coverage that we didn't force.
CM: Is there room for opportunistic promotion in your marketing calendar?
Maggiore: We like to get crazy early on, but we also like to have a series of igniters throughout the year. We start with a schedule of promotions, but if we see the wind blowing in a particular direction, we can often arrange to make it blow a little harder. For example, our White-Out Tour in New York last February [with PGA tour pros, TaylorMade CEO Mark King and Donald Trump teeing off in a covered driving range on 54th St.]: We had that mapped, but getting Mr. Trump involved was a last-minute decision. The resulting event made the "ESPN SportCenter Top 10 Plays" for that day.
CM: What part do social media play in your calendar?
Maggiore: We like having that digital space to test concepts on a small scale. Early this year we launched a "Ghost Sightings" Facebook app [for its Ghost putter line] to let fans post pictures of themselves and pros with the putters. If the ideas bomb, we blow out of them quickly. Luckily, that doesn't happen too often.