Avengers Assemble: The Marketing Charge for Infinity War

Coca-Cola, Rocket Mortgage, Duracell and American Airlines are among the legions of brands hitching their wagons to "Avengers: Infinity War."
The marketing interest in Marvel's heroes comes as no surprise to anyone. After all, as Forbes notes, since the actors who embody them have become as iconic as the characters they appear unmasked in the movie's posters.
The overall promotional push for "Infinity War," estimated by Deadline to be north of $150M, is the biggest ever for a Marvel movie.
Here's a round-up of the some of the standouts from around the Globe in the roll-up to the film's April 27 release:
Quicken Loan's Rocket Mortgage
A co-branded TV commercial and product placement in Infinity War's opening scenes are the centerpiece of this collaboration, which will be supplemented by digital video, online ads, social support and more.
In the 30-second spot, a young woman walks down a city street and calmly applies for a mortgage on her phone (with "super hero levels of confidence") while in the background Iron Man and Doctor Strange fight an epic battle. The good Doctor opens a portal to teleport her to her perfect new home, where her husband and child (wearing a Captain America t-shirt, of course) are waiting.
Stand Up to Cancer & American Airlines
To raise funds for cancer research, Stand Up to Cancer, American Airlines and Marvel Studios teamed up to create a new PSA featuring the Avengers, cancer researchers and AA team members who have personally fought cancer. Print, radio, TV spots and digital elements will support the campaign.
"Our team members are true service super heroes and are at the forefront of everything we do at American Airlines," says Elise Eberwein, EVP, people & communications for American. "The team members featured in this campaign represent all American team members who are currently fighting or have fought this terrible disease, and we are humbled by their fortitude."
"It's an honor to bring these worlds together," said Mindy Hamilton, Marvel's senior vice president of global partnerships & marketing. "Our Super Heroes are often placed on pedestals as the ultimate paradigms, so we're excited to shift the spotlight onto the real-life heroes who battle against this terrible disease every day."
The PSA campaign, created by Hollywood-based ad agency LA, encourages American Airlines AAdvantage members to donate to Stand Up To Cancer. For every dollar donated, members will receive 10 AAdvantage® miles with a minimum $25 donation.
Coca-Cola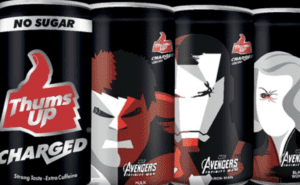 The beverage titan's sponsorship for Infinity War is estimated at $40M, according to Deadline. One component centers on Coca-Cola India's rollout of a no-sugar variant of the Thums Up cola. The move is part of a plan to make Thums Up a $1 billion brand by the end of 2020, reports FoodBev.com.
To connect with its core drinkers, Coca-Cola India has unveiled a creative marketing campaign in association with Marvel. The cans and PET bottles of Thums Up Charged no sugar feature illustrations of four Marvel Avengers super heroes.
The campaign includes TV commercials featuring the Avengers, along with promotions on the brand's social media pages across YouTube, Facebook, Twitter and Instagram.
"We are now eager to take the iconicity of this brand to the next level," Vijay Parasuraman, vice president of marketing at Coca-Cola India and Southwest Asia told FoodBev. "We are supporting the brand by going beyond the traditional marketing practices and directly engaging with the consumers through interactive platforms and innovative formats."
Duracell
The battery manufacturer plays around in a new spot in South Africa, showcasing the superheroic power of its product.
In the spot, Iron Man takes to the skies to fight Thanos (the intergalactic villain of "Infinity War") and then sputters out. The camera pulls back to reveal that this incarnation of the hero isn't Robert Downey Jr. but rather a toy in need of a better battery. The pink Duracell Bunny comes to Iron Man's rescue.
(Yep, you read that right. The Duracell Bunny. While the rabbit can't hop in the U.S. because Energizer snagged the trademark, Duracell's pink bunny came first and is still an ad icon in other parts of the world.)
Related Articles:
Wakanda Forever: Black Panther's Lessons for Marketers
Everyone Wants to Be Groot: The Guardians Marketing Blitz
Movie Superheroes: Fighting for Truth, Justice and Good Buzz