Why Marketers Should Put on Wearables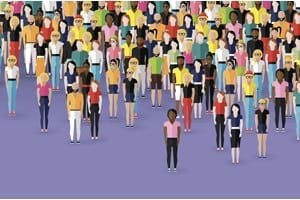 Millennials like wearables—and so should marketers.
One PricewaterhouseCoopers survey showed respondents between the ages of 18 and 34 were 55% more likely to own wearables than older people. Wearables offer an unprecedented level of convenience. The ability to check emails, track your workout stats and verify flight times out of Toronto simply by looking at your wrist could be a game changer for overscheduled, fast-paced Millennials.
Promising as wearables are, however, the industry has seen its failures. In many cases, the technology has been a letdown. The Apple Watch's poor battery life, Fitbit's inaccurate health monitoring, and Google Glass's privacy concerns are but a few of the disappointments consumers encountered when these supposedly groundbreaking products debuted.
Voice command and GPS functions in most wearables are often inaccurate, making them less useful than their manufacturers touted them to be. These flaws have prevented consumers from adopting wearables in the sustained way tech companies hoped they would. According to PwC, 49% of people surveyed stopped using their devices within a few months of purchasing them.
But wearable tech is a nascent industry. As heavy-hitters like Apple and Google improve their designs, other companies will follow suit. The sports apparel brand Under Armour is already developing its own wearables, and many tech devices now double as jewelry. The rise in smart home technology is also spurring the demand for wearables that will integrate with those systems.
Faster, sleeker, more accurate designs are coming, and Millennials will be among the first to forgive past disappointments and embrace these new products.
The Next Wave of Wearable Marketing
Wearables represent a potential gold mine for marketers in terms of both data and profits. Experts suggest consumers will buy nearly half a billion wearables per year by 2018. And when it comes to data, wearables let brands generate new, granular information. Marketers can learn about their audiences' lifestyles, preferences, and habits through geotracking and behavioral data, then use that information to craft tailored wearable campaigns.
By connecting with wearable manufacturers now, marketers can set themselves up for lucrative partnerships as the industry explodes. Here's how to strategize for success:
Take advantage of new opportunities.
Targeting wearable users can lead you to new audiences — the anytime-anywhere devices are great for showcasing your products to people who may not have heard of your brand. Your on-the-go prospective buyers may not sit on Hulu or YouTube for a couple of hours, but with wearables, you can reach them on their morning run or as they check their email on a coffee break.
Aligning yourself with wearable manufacturers also proves your company is forward-thinking. Jump in on this trend before wearables become as ubiquitous as smartphones.
Don't get stuck on one demographic.
Investing in wearable marketing better connects you with Millennials, but don't stop there — wearables' convenience and intuitive user experience are appealing to all ages. As adoption becomes more widespread, you'll want to connect with the Boomers and Gen Xers who embrace the technology as well. Develop marketing strategies that meet all your audience segments' needs.
It might be Millennials leading the bleisure movement, for example, but blending work and travel isn't exclusive to younger crowds. Professionals at any age want to roam and relax on their trip while still being able to glance at their inboxes. These consumers especially want information that reaches them conveniently and won't take long to digest, meaning marketers can best reach them on their wearables.
Date around — don't marry one strategy.
Investigate all types of wearable marketing strategies. You'll need them as you target consumers across age groups, preferences, and geographic regions. The more capabilities you have for reaching people, the more prepared you'll be to take advantage of coming opportunities.
We haven't entered the wearable utopia yet, but that doesn't mean it's not on the horizon. People want smaller, more intuitive devices they can interact with at all times and any location. Wearables are the best bet for meeting that need, giving marketers the chance to connect with new audiences and reach consumers the way they want to be reached. The opportunity is there, so set yourself apart by getting in on this channel early.
Tony Tie is the senior search marketer at Expedia Canada.
Related Articles: 
4 Ways Social Positions Brands as Destinations for Millennials
Wearable Tech is the New Marketing Battleground
Helping New Milliennial Hires Be Successful